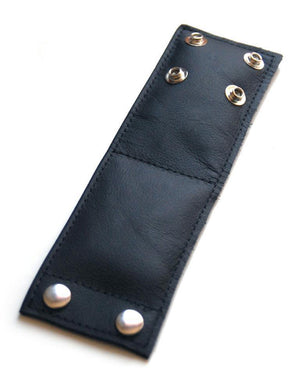 More The Weighted Ball Stretcher is crafted from high-quality garment leather, containing tiny sand granules that make this CBT toy firm yet flexible. The dual snaps allow for custom adjustment to ensure a snug and secure fit, ideal for even the most extreme CBT scenarios. This ball stretcher weighs six ounces and will weigh down your boys without being excessively straining.
This ball stretcher is a supple yet durable piece that will make a great addition to your cock and ball toy collection.
Product Details:
• 2in/5.1cm diameter
• 1.5in/3.8cm diameter
• 2 inches wide
• 7 inches long
• 6oz weight
Safety and Usage:
Never bind the cock or balls for longer than 20 minutes at a time. Clean with soap and water after every use. Air dry.
SKU: SL118CP
Note: This item is produced in-house by our leather team in Los Angeles. In-house items display as "In Stock," and in a majority of cases we do have current stock on hand, but if not, the items will be made to order for you, and our customer service team will notify you promptly regarding any anticipated wait (usually just a few days). You will have the option to cancel if you do not wish to wait. If other items in your order are available immediately, the order may be sent in multiple parts.