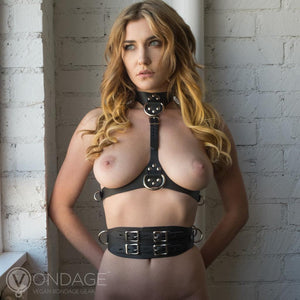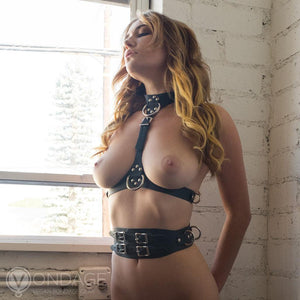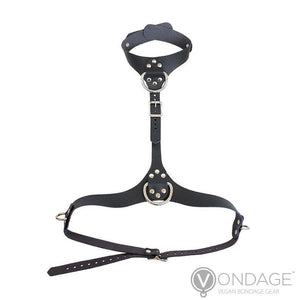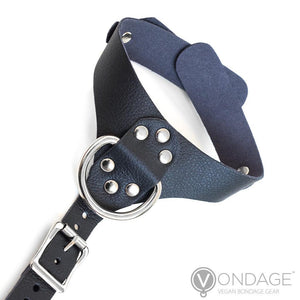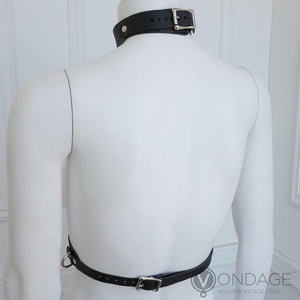 The best-selling Vondage vegan leather bust harness is unlike any other on the market. Made of durable, high-quality faux leather with nickel-plated hardware, this fetishwear harness is made to fit around the neck and under the breasts. The adjustable top piece fits around the neck like a collar and has a 1½ inch D-ring. A vertical adjustable center piece allows for comfortable wear, regardless of breast size. Bottom section also boasts a 1½ inch D-ring and fits under the breasts, buckling on the back.
Harness contains three ¾ rolling lock buckles, two 1½ inch D-rings, and two 1 inch D-rings. Functional and sexy, this harness makes it easy to leash your slave to any item. The harness may also be worn by a Dominatrix, in order to attach her favorite slave to her own body. This item is a must for your collection of vegan BDSM gear.
Ideal for...Bondage Play, Vegan Kinksters, BDSM, Puppy Play, slaves, and submissives.
Product Details
• Collar: 11.5 to 14.5 inches (29.2-37cm)
• Under Breast: 24.5 to 34.5 inches (62.2-88cm)
• Collar to Under breast: 8.5 to 11.5 inches (21.6-29.2cm)
SKU: J740
Note: This item is produced in-house by our leather team in Los Angeles. In-house items display as "In Stock," and in a majority of cases we do have current stock on hand, but if not, the items will be made to order for you, and our customer service team will notify you promptly regarding any anticipated wait (usually just a few days). You will have the option to cancel if you do not wish to wait. If other items in your order are available immediately, the order may be sent in multiple parts.