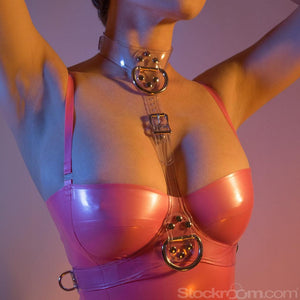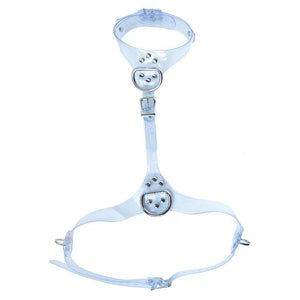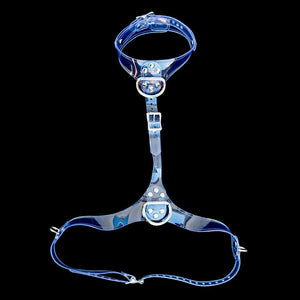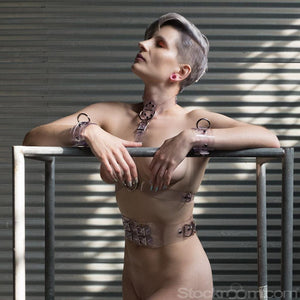 Boobies from outer space! Be the futuristic, submissive—or Dom/me—alien princess you've always wanted to be with the Clear CTRL Bust Harness! This sleek harness is made to fit around the neck and under the breasts, highlight feminine curves, and adds extra points of attachment for your bondage play. The adjustable top piece fits around the neck like a collar and has a 1½ inch D-ring. A verticle adjustable center piece allows for comfortable wear, regardless of breast size. The bottom section of this harness also boasts a 1½ inch D-ring and fits under the breasts, buckling on the back.
Ideal for... BDSM, bondage, space role-play, futuristic role-play, cyber role-play, sci fi role-play, voyeurism, submissive training, slave training, BDSM Fashion.
Product Details:
• Collar: 11.5 to 14.5 inches (29.2-37cm)
• Under Breast: 24.5 to 34.5 inches (62.2-88cm)
• Collar to Under breast: 8.5 to 11.5 inches (21.6-29.2cm)
• Made with clear vinyl and nickel-plated hardware
SKU: J751
Note: This item is produced in-house by our leather team in Los Angeles. In-house items display as "In Stock," and in a majority of cases we do have current stock on hand, but if not, the items will be made to order for you, and our customer service team will notify you promptly regarding any anticipated wait (usually just a few days). You will have the option to cancel if you do not wish to wait. If other items in your order are available immediately, the order may be sent in multiple parts.