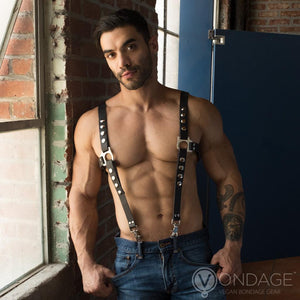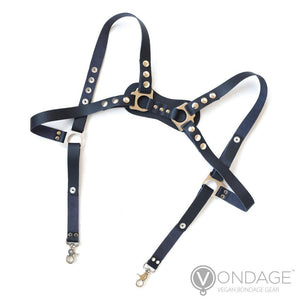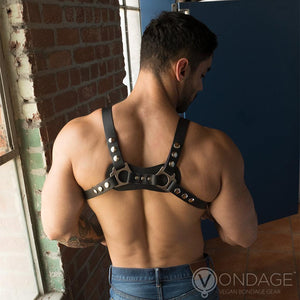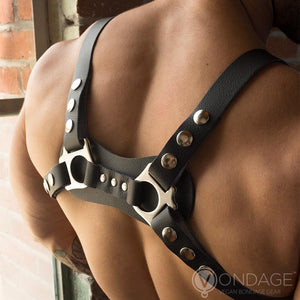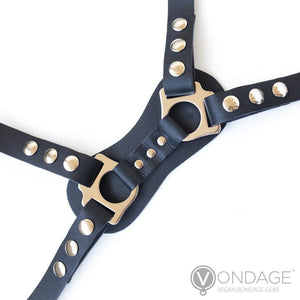 Our best-selling Mercenary Suspenders are now available in our Vondage vegan leather collection! These suspenders are perfect for when you're out with the rest of the daddies or at home with your favorite cub. When you wear these tough-looking suspenders respect will be given every time!
With straps made with our soft vegan faux leather and a rear harness patch, these crisscrossing suspenders have a rough bondage look that's sure to turn heads. The 1.5 inch wide straps have adjustable snaps up front and on the rear to give you the restraining fit that you crave. Metal clips secure easily to belt loops, while halter rings on the chest give the possibility to attach your favorite restraint or control devices. Nickel-plated hardware makes this piece shine throughout, adding plenty of gleams to complement your glistening chest!
Ideal for...Vegan Kinksters, Everyday-wear, and BDSM Fashion.
Product Details:
• Available in 2 sizes: S/M and L/XL
• S/M: Fits chest 36-42in/91.5-106.5cm
• L/XL: Fits chest 42-48in/91.5-122cm
SKU: J743S (S/M)
SKU: J743L (L/XL)
Safety, Care & Usage: With a damp washcloth and hand soap, rub-down the vegan microfiber material and dry completely. Do not expose material to excessive heat.
Note: This item is produced in-house by our leather team in Los Angeles. In-house items display as "In Stock," and in a majority of cases we do have current stock on hand, but if not, the items will be made to order for you, and our customer service team will notify you promptly regarding any anticipated wait (usually just a few days). You will have the option to cancel if you do not wish to wait. If other items in your order are available immediately, the order may be sent in multiple parts.