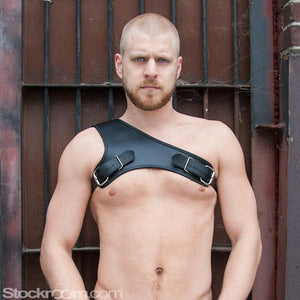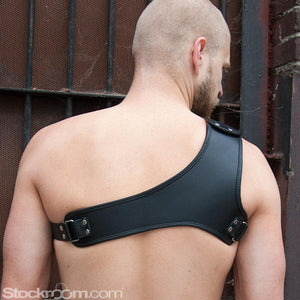 This unique 3-strap male chest harness is perfect for those looking to re-capture that Roman look in a modern setting, like a leather contest or bar.
This harness features two adjustable buckling underarm straps, while the over-the-shoulder strap is fastened together with rivets. The asymmetrical design is striking and attractive, with both nickel-plated buckles fastening above the nipples, drawing the eye to your chest, asking the silent question, "Are you not aroused?!"
Find the harness that's right for you!
Product Details:
• Leather with nickel-plated steel hardware
• Small fits chests 36in-40in/91.4cm-102cm
• Med fits chests 40in-44in/102cm-112cm
• Lg fits chests 44in-48in/112cm-122cm
Note: This item is produced in-house by our leather team in Los Angeles. In-house items display as "In Stock," and in a majority of cases we do have current stock on hand, but if not, the items will be made to order for you, and our customer service team will notify you promptly regarding any anticipated wait (usually just a few days). You will have the option to cancel if you do not wish to wait. If other items in your order are available immediately, the order may be sent in multiple parts.