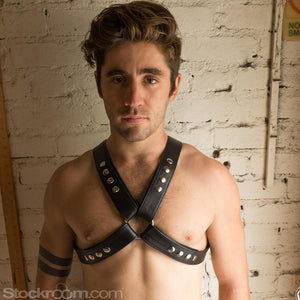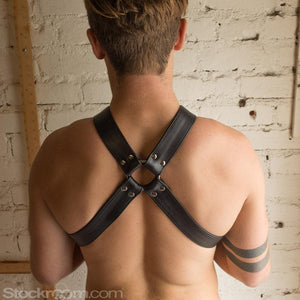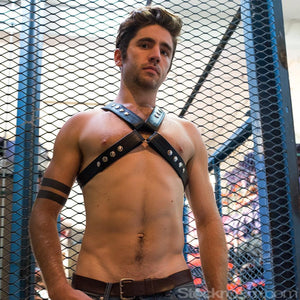 At parties, bars, or in private, share the pride you take in your manly body while wearing this leather chest harness.
With a hyper-masculine, warrior look, this harness exposes the chest so that everybody can get a good look at the sweat dripping down your pecs while you bump and grind the night away. The medium-weight garment leather straps are 1.5 inches wide, which just happens to be the perfect size for somebody to grab before pulling you in close for a sensual mauling.
The metal O-ring on the front gives additional control possibilities to make this piece great for party time and playtime. Nickle-plated studs and snaps adorn this X-shaped harness, with the snaps giving size adjustability so that it looks and feels like serious bondage gear. Bears of all sizes will roar their approval for the way this harness frames the beast who wears it!
Product Details:
• S/M: fits 36-42in/91.5-106.5cm chest
• L/XL: fits 42-48in/91.5-122cm chest
SKU: J572 (S/M)
SKU: J573 (L/XL)
Note: This item is produced in-house by our leather team in Los Angeles. In-house items display as "In Stock," and in a majority of cases we do have current stock on hand, but if not, the items will be made to order for you, and our customer service team will notify you promptly regarding any anticipated wait (usually just a few days). You will have the option to cancel if you do not wish to wait. If other items in your order are available immediately, the order may be sent in multiple parts.