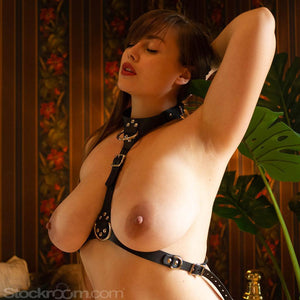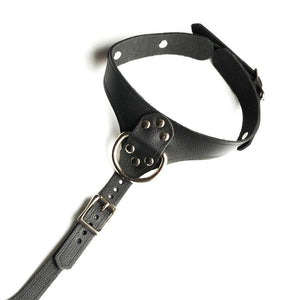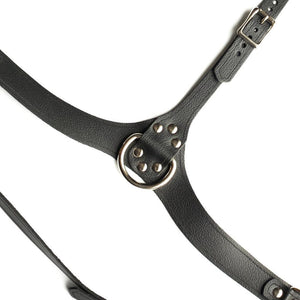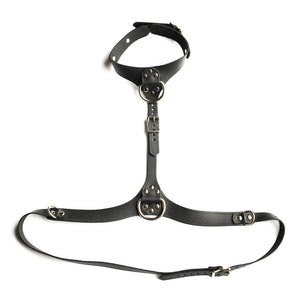 The slim, sturdy straps of this leather Full Curves Bust Harness are just enough to accent the voluptuous curves of your bust with a mix of boldness and sensuality. A leather collar at the neck is connected to an underbust belt by a single leather strap that travels right through the cleavage, highlighting everything that's best about large, curvy breasts.
Whether wearing it over clothing or on bare skin, the look is absolutely irresistible, while also extremely practical when you want to dive head-first (or tits-first) into kinky play. The natural strength of the leather and two nickel-plated D-rings give your partner several convenient handles to grip (or bind) you for hot bondage and submission scenes. Also excellent for pony or pet play.
Product Details:
• Collar: 15" - 18" (38.1cm - 45.7cm)
• Under Breast: 36" - 46" (91.4cm - 111.8cm)
• Collar to Under Breast: 8.5" - 11.5" (21.6cm - 29.21cm)
• 2 1 1/2-inch D Rings at neck and sternum
• 2 1-inch D-Rings on sides
• Center piece adjustable for comfortable wear
Note: This item is produced in-house by our leather team in Los Angeles. In-house items display as "In Stock," and in a majority of cases we do have current stock on hand, but if not, the items will be made to order for you, and our customer service team will notify you promptly regarding any anticipated wait (usually just a few days). You will have the option to cancel if you do not wish to wait. If other items in your order are available immediately, the order may be sent in multiple parts.