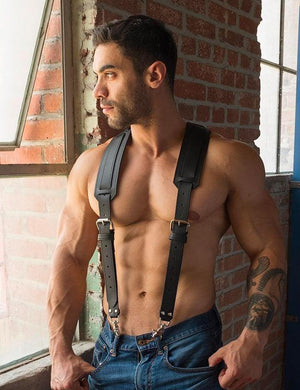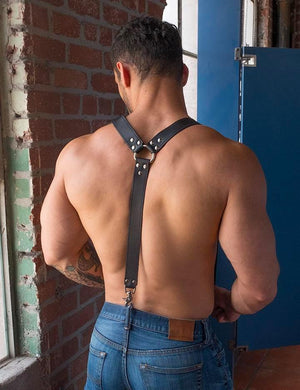 These rugged black leather Deluxe Suspenders look great holding leather jeans or a tool-belt. They have removable leather lined shoulder pads that add a beefier, more utilitarian look. Spring clips act as points of attachment to make it possible to hook your suspenders onto a variety of belt loops or belts.
Adjustable front buckles allow for most sizes. With superior craftsmanship and heavy duty materials, these deluxe suspenders can last a lifetime.
Width:
¾": SKU: J406
1¼": SKU: J398
Note: This item is produced in-house by our leather team in Los Angeles. In-house items display as "In Stock," and in a majority of cases we do have current stock on hand, but if not, the items will be made to order for you, and our customer service team will notify you promptly regarding any anticipated wait (usually just a few days). You will have the option to cancel if you do not wish to wait. If other items in your order are available immediately, the order may be sent in multiple parts.