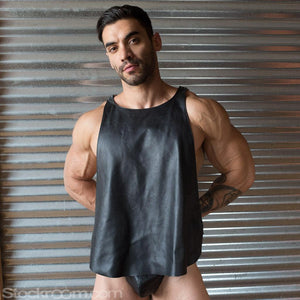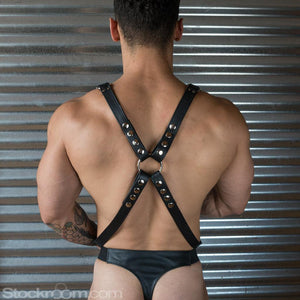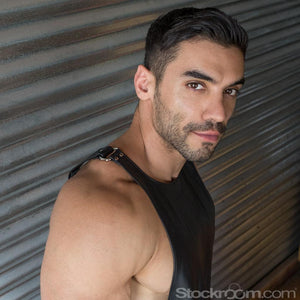 For festive fetish occasions and fun behind closed doors, the Butcher Tank Harness has the perfect combination of coverage and exposure that teases people to the point that they can't wait to sink their teeth in for that first bite.
Extra soft glove weight garment leather makes up the front of this harness, providing full chest coverage to protect what's underneath from prying eyes until you're ready to serve up your particular forms of delight. The back is formed from crisscrossing medium garment leather straps, exposing every sinew of muscle on your back.
The nickel-plated studs dotting the straps give a mean metal edge and provide snap adjustments to hold you penned tight or loose enough for your pleasure. The shiny metal O-ring in the middle of the harness holds everything together and is great for attaching a leash to in case somebody wants to keep their favorite butcher as a pet. With this harness on, you'll look just right for dealing with the flesh of wild animals of any kind!
Product Details:
Length (Shoulder to hem): Approx. 26in/66cm
• S/M: fits 36-42in/91.5-106.5cm chest
• L/XL: fits 42-48in/91.5-122cm chest
Note: This item is produced in-house by our leather team in Los Angeles. In-house items display as "In Stock," and in a majority of cases we do have current stock on hand, but if not, the items will be made to order for you, and our customer service team will notify you promptly regarding any anticipated wait (usually just a few days). You will have the option to cancel if you do not wish to wait. If other items in your order are available immediately, the order may be sent in multiple parts.