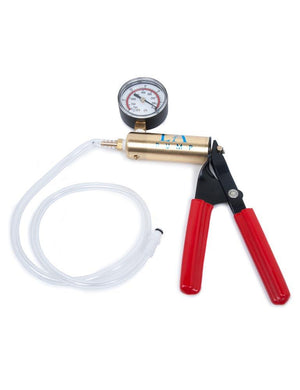 Each of these pumps is for use with any cylinder that has an Air Pressure Valve. The use of a cylinder pump creates a vacuum that will engorge and enlarge tissues. It will work by creating a partial vacuum seal around the penis or nipples that pulls blood to the surface, thereby creating an erection. There will be a warm and sensitive sensation, but it is temporary; eventually, everything will return to its former size.
The Brass Basic Hand Pump is suitable for wet or dry use. Many pumpers have reported that hand-pumping while in the shower with warm or hot water can be very pleasurable. The warmth also helps the penis to expand.
The Deluxe Brass Hand Pump has a PSI pressure gauge for accuracy and safety. It is durable and designed for one hand use. However, this pump needs to be kept dry as it is NOT suitable for wet use (such as in the shower/tub, or in other steamy settings).