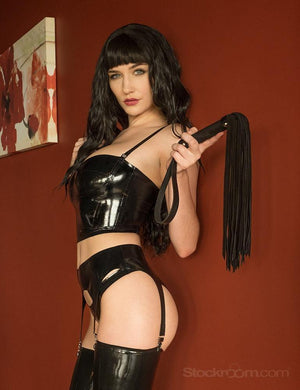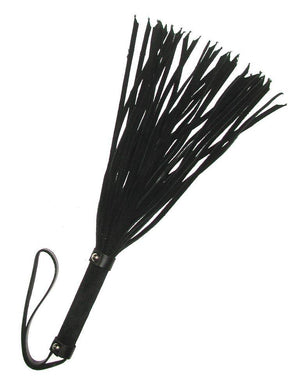 This is the shorter version of our 24" Suede Flogger Whip. This Stockroom best-selling item has 32 strands (or "blades") that are ¼" wide, 12" long, and come to a nice point at the tips. The overall length of the flogger is 18" and features a 5½" handle fitted with an 8" leather wrist loop for hanging the implement.
Don't think just because it's small it can't deliver. This is a good practicing implement for beginners in impact play. Your bottom will not be disappointed.
Product Details:
• Falls length: 12" (30cm)
• Handle length: 5.5" (14cm)
• Wrist loop length: 8" (20cm)
• Made of black suede leather
Note: This item is produced in-house by our leather team in Los Angeles. In-house items display as "In Stock," and in a majority of cases we do have current stock on hand, but if not, the items will be made to order for you, and our customer service team will notify you promptly regarding any anticipated wait (usually just a few days). You will have the option to cancel if you do not wish to wait. If other items in your order are available immediately, the order may be sent in multiple parts.