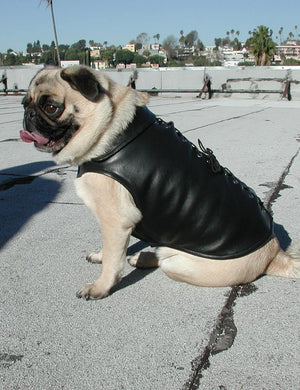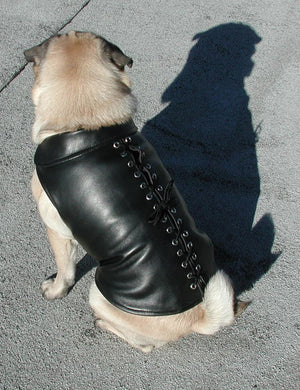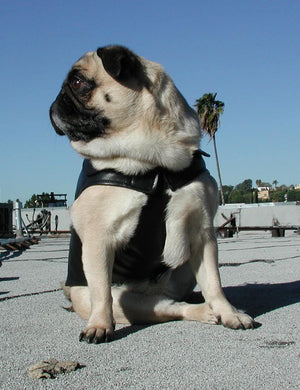 The Black Leather Dog Vest provides an adorable way to dress your dog up in something stylish and cool. Your dog will look extra cute wearing this slick new item.
This 100% genuine black leather dog vest has black cross lacing and nickel plated metal eyelets up the back along the top line, and a collar that can be worn turned up or down.
Sizing Information
Extra Small (C714) Length: 9". Girth: 15" to 19". Weight: 18 pounds and under.
Small (C715) Length: 12". Girth: 19" to 24". Weight: 15 to 25 pounds.
Medium (C716) Length: 14". Girth: 22" to 29". Weight: 20 to 50 pounds.
Large (C717) Length: 17". Girth: 26" to 35". Weight: 40 to 70 pounds.
Extra Large (C718) Length: 20". Girth: 31" to 42". Weight: 70+ lbs.
This top quality leather pet garment is very attractive and quite comfortable for the dog.
Make your dog look like a little leather bad-ass and put them in the Black Leather Dog Vest.
The Leather Dog Vest pictured is size Small (C715).