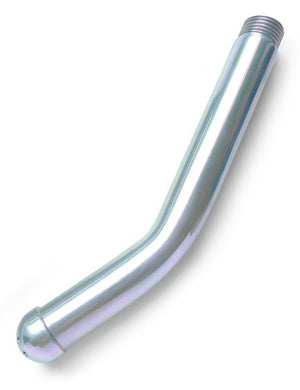 The Curved Douche Head is a classy piece of sexy equipment that has been specially designed to get all of your dirtiest and most naughty private parts extra clean. This clever device screws easily onto any standard shower hose attachment and takes the act of washing and bathing to the next level of hygiene and sensual excitement.
The Curved Douche head can be used anally or vaginally and gets both men and women equally clean. There are seven and a half inches of insertable length to probe deep and make sure the inside bits are washed spotless. It is available in stainless steel or aluminum. Anal play enthusiasts will rejoice at the deep cleaning power and practicality of this exciting new advancement in shower sex technology.
The Aluminum Curved Douche Head (E231A) is made of non-porous, body safe, phthalate free aluminum that is lightweight with a satin finish. Aluminum toys can be used with any lubricant, and are easy to clean and care for.
Product Details
• Total insertable length: 7.5in (19.1cm)
• Circumference: 3.1in (8cm)
• Diameter: 1in (2.5)
Safety, Care and Usage
The Curved Douche Head is very easy to clean using just antibacterial soap and warm water. This toy must be cleaned before and after every use. Always play safely.