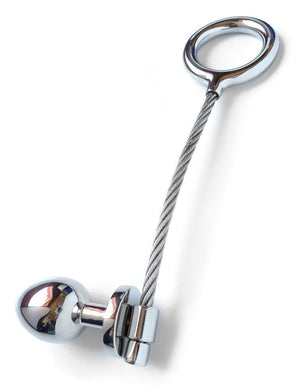 For the men who love the feel of cold metal, but yearn for a bit of flexibility we introduce this innovative dual cock ring and anal toy.
On one end of this rig is a smooth and seamless steel cock ring to hold snug to your manhood while the other end features an egg-shaped anal plug ready to fill you up. Connecting the two ends is a durable steel cable that will bend to your whim while allowing you to slide the anal plug along it to make sure every bit of this device is right where you need it for the perfect fit!
Product Details:
• Made of Stainless Steel
• Egg Diameter: 1.1in (2.8cm)
• Egg Length: 1.8in (2.5cm)
• Plug Base Diameter: 1.1in (2.8cm)
• Plug Base Height: .375 (.95cm)
• Cable Length: 6in (15.2cm)
• Useable Length: 5.1in (12.9cm)
• Ring Diameter: 1.5in (3.8cm)
• Ring Thickness: .375in (.95cm)
Safety, Care & Usage:
Clean before & after use with antibacterial soap and warm water.