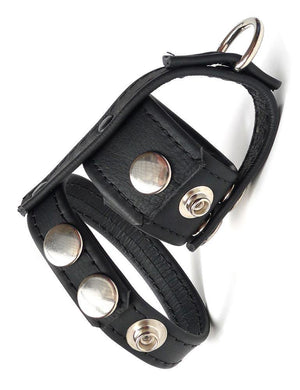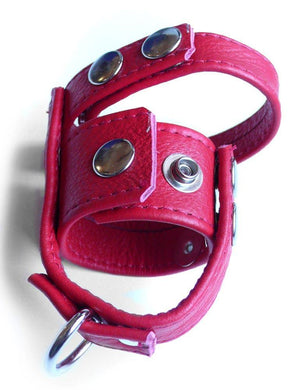 For those who want to push the boundaries of CBT, The Stockroom brings you this exceptional black leather cock and ball torture device. Squeeze the balls and put pressure on the testicles with the 2-part Deluxe Erection Maker, made of our original 3-speed cock ring combined with our small Leather Ball Stretcher with Separator Strap. A bondage staple, the cock ring is worn behind the balls and up and over the cock. Adjustable with 3 metal snaps, it is designed to make your cock larger and harder. This clever little device fits tightly around the scrotum, pushing the balls down for some exquisitely pleasurable pain.
The leather ball stretcher is made of high quality garment leather that is firm but soft to the touch, with rounded, smooth edges. The snap closures on the side allow for two different levels of tightness, and the metal D-ring at the bottom is designed for a leash or weights if you want to take it further. Ball stretcher strap measures 1 1/4" in diameter.
Product Details:
• 6in/15.2cm Cock Ring Minimum Circumference
• 8.25in/21cm Cock Ring Maximum Circumference
• 4.5in/11.4cm Ball Stretcher Minimum Circumference
• 5.5in/14cm Ball Stretcher Maximum Circumference
SKU: SL110B (Black)
SKU: SL110R (Red)
Safety and Usage: These are not sold for use with weights. Please take extreme caution if you choose to engage in that kind of play.