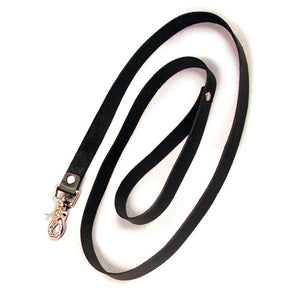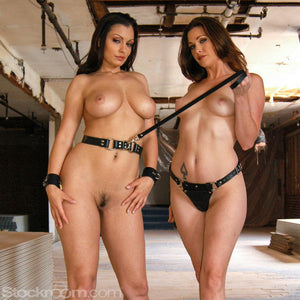 This 4-foot black leather leash is about ¾" wide, with a wrist loop on one end, and a solid claw-style spring hook on the other end for easy attachment to a bondage collar or fetishwear harness.
Simple, sexy, and to the point. Use two leashes together (simply attach one on each side of a head harness or bit gag) as reigns for pony play to ride and guide your pony during training.
Our leather bondage gear is made of particularly fine leather and manufactured right here in Los Angeles, USA.
Product Details:
• 4 feet long (122cm) and .75" wide (1.9cm)
• Made of black latigo leather with nickel-plated hardware.
• Sold individually.
Note: This item is produced in-house by our leather team in Los Angeles. In-house items display as "In Stock," and in a majority of cases we do have current stock on hand, but if not, the items will be made to order for you, and our customer service team will notify you promptly regarding any anticipated wait (usually just a few days). You will have the option to cancel if you do not wish to wait. If other items in your order are available immediately, the order may be sent in multiple parts.