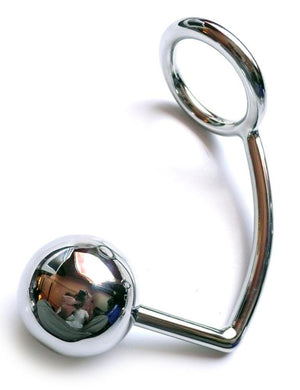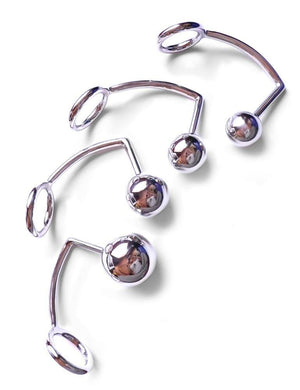 The Trailer Hitch anal plug and cock ring from The Stockroom combines two mind blowing toys in one. Keep your cock stiff and your ass stuffed at the same time with this unique "Trailer Hitch". Designed with your pleasure in mind this impressive anal/cock toy combo is the perfect device for players who enjoy anal penetration, and cock and ball play.
The Trailer Hitch has a removable steel ball on the end of the hitch that inserts into the anus. There are several options for insertable lengths, widths and cock ring measurements depending on which size you purchase. See dimensions below to determine which will be right for you.
The other end of the Trailer Hitch has a cock ring that you slide your cock and balls through. The cock ring will keep your dick nice and hard while you enjoy the pleasantly full feeling the ball-end creates once inside the ass. The more you move the more feedback you will get from the trailer hitch. Wear it under your clothes for a truly kinky sensation; the only limitation is your imagination. The Trailer Hitch™ is the perfect way to control a disobedient slave's cock and ass, submerge this one in cold water to really make them squirm.
Safety, Care and Usage:
The Trailer Hitch Anal Plug and Cock Ring is recommended for those players experienced with CBT and extreme anal penetration safety techniques. Clean the hook with alcohol or hot water after use.
Product Details:
• Made of 100% Stainless Steel
• Perineum Length: 5 in. (12.7cm)

SIZE refers to the cock ring diameter:
• 40mm
• 45mm
• 50mm

STYLE refers to the trailer hitch ball width:
• Standard=40mm
• Expanded=45mm
• Magnum=50mm
• Extreme=60mm