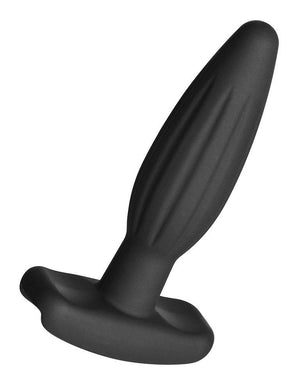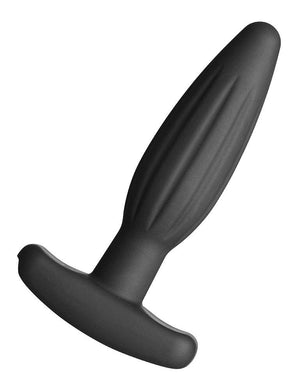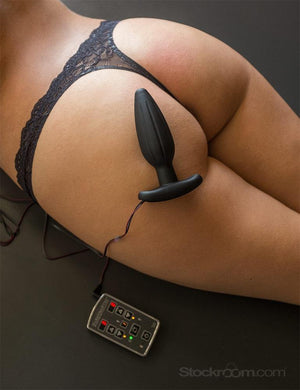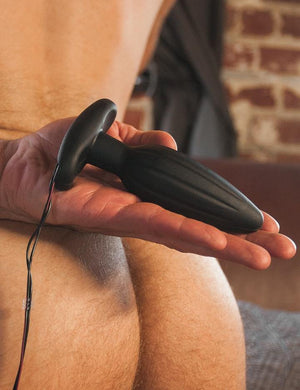 The ElectraStim Silicone Noir Rocker Butt Plug gets its name because it's an orgasmic treat to sit on and rock back and forth (or grind) on! This e-stim anal plug is a perfect toy for those who are fans of hands-free play, and who want a thicker plug that provides more of a "full" feeling. Use this butt plug during both solo play and sex to add a whole new dimension of sensations during your hottest intimate moments.
Made from medical-grade, 100% platinum-cured silicone, the Rocker's tapered shape makes insertion a breeze, and its gentle ridges enhance all tantalizing sensations.
This plug transmits electro-erotic sensations via its bi-polar contacts that can be hooked up to any ElectraStim stimulator of your choice.
Product Details:
• Bi-polar for internal stimulation - takes 2x 2mm pin connectors
• ElectraStim stimulator sold separately
• For low to medium power levels, use the ElectraStim Flick. For high power levels, use the ElectraStim SensaVox
• Size Small: 4" (10.2cm) insertable length x 1.2" (3cm) diameter at the widest point
• Size Medium: 4.5" (11.4cm) insertable length x 1.6" (4cm) diameter at the widest point
• Size Large: 5" (12.7cm) insertable length x 2" (5.1cm) diameter at the widest point
• Made from 100% platinum-cured, medical-grade silicone, the designs are free from phthalates and body safe
Safety: This item is not suitable for use in the shower, bath, or any other location where water is present while a stimulator is connected.