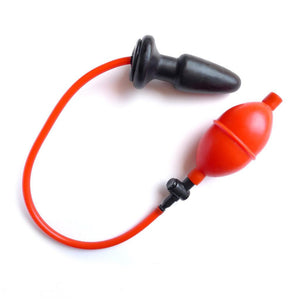 If you're looking to expand your playtime repertoire, this is the butt plug for you! Perfect for prostate stimulation, training, and inflation play, the solid butt plug offers streamlined insertion
Once in place, the smooth latex sheath can be inflated with each pump of the sturdy rubber bulb, and deflated quickly or slowly with the integrated pressure release valve. With pressure completely under your control, you can ratchet up the prostate stimulation into a shuddering orgasm, or simply enjoy the delicious torment of expansion.
Whether you want to take yourself or your partner to new heights of anal pleasure or you want to train and shame a submissive slave, he who controls the pump controls the universe.
Play delicately at first, and always know your and your partner's limitations!
Product Details:
• Plug length: 4.75in (12.1 cm)
• Plug width: 1.5in (3.8 cm)
• Plug neck: 1in (2.5 cm)
• Plug base: 2.2in (5.6 cm)
• Hose length: 15.25in (38.7 cm)
• Pump: 6.75in (17.1 cm)
• Solid plastic butt plug with expandable latex sheath and rubber pump