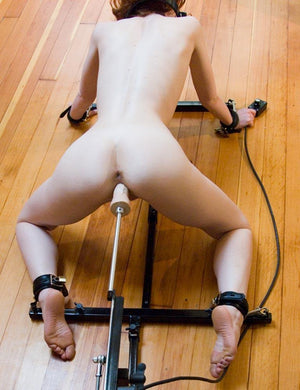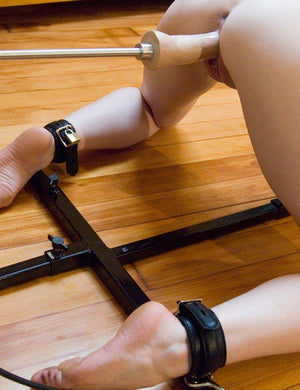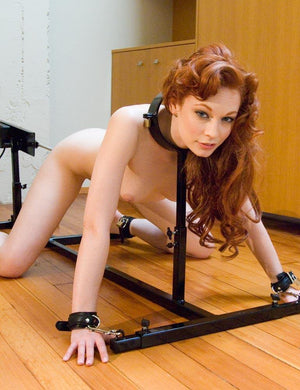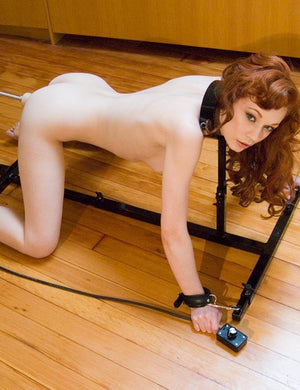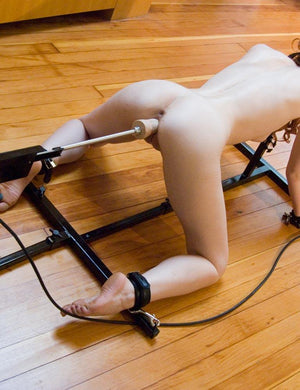 The Slave Driver is a sex machine/slave trainer. The sex machine attachment mounts to the back of a doggie style-position stockade for discipline training.
The machine features a smoothly advancing stroke setting, extending from 1½ to 6 inches. Simply loosen the adjusting knob by hand, re-position to the desired depth of stroke, and re-tighten the knob. No tools are required. No preset positions are specified. Find the stroke setting that's right for you, or change it conveniently as desired in each session.
No returns/exchanges will be accepted for this product. All sales are final.
The stockade breaks down for easy set-up and very easy storage, and the powerhead can be removed for discreet portability. It is great for vaginal or anal penetration. Pop on your favorite Vac-U-Lock dildo, lock in your slave and begin the unique fucking machine experience. Dildos are sold separately. Leather Wrist and Ankle Cuffs are sold separately. All components are easy to install and require no modification of either the machine or the stockade.
The Slave Driver sex machine offers impressive versatility at an affordable price. A heavy-duty slide mechanism, an all-steel construction, and a powder coat finish making this machine an excellent value.
Technical Specifications for the Machine:
•Stroke length 1½"-6" smoothly advancing settings
•Smoothly advancing speed control from 0-140 strokes
•Torque:14 inch pounds
•Horsepower: 1/30th
•Continuous duty gear motor
•8' handheld speed adjuster
•6' power cord
•Measures 40"x17" at the widest point when folded, with the power unit attached
220 Volt machines have internal voltage converters to make them operable with most European and Asian countries. Customers will need to purchase a separate power-plug adapter appropriate for their intended region of use.
•Arm width adjustable from 18" to 29"
•Torso length adjustable from 24" to 40"
•Neck restraint is 1" wide x 6" in diameter
•Neck restraint is adjustable from 8" to 16" tall
•Eyelets for attaching restraints accept up to 5/16"
Standard Features for the Machine:
•4" billet aluminum Vac-U-Lock
•Large ergonomic adjusting knobs for height and angle adjustment
Technical Specifications for the Stockade:
•Vertical adjustment from 9" to 17"
•Horizontal adjustment from 9" to 17"
•Allows for power head angle adjustment
Standard Features for the Stockade:
•Breaks down for easy storage
•Gloss black powder coat finish
•Easy installation
•MIG welded steel frame
Shipping:
*Express Shipping is not available for this item.
• Continental US: Supplemental shipping surcharge is included in the price.
• Alaska, Hawaii, US Territories, and International locations: A shipping surcharge may be applied based on delivery address. You will be contacted with a shipping surcharge quote, or you may inquire for details prior to placing your order.
• The item will be shipped directly from the manufacturer via UPS or FedEx Ground separately from other items and may take a little longer to arrive.
Warranty:
Made in the USA with a lifetime warranty. This warranty includes all components of the machine including the motor. This warranty only applies to the original purchaser of the machine and does not cover lost items for the machine. The warranty does not cover any transportation or shipping fees to return the unit.