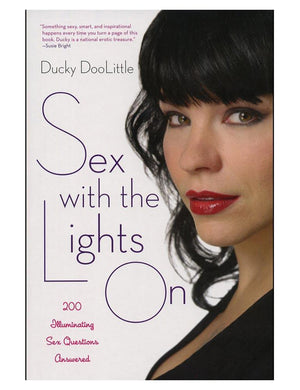 From the Back Cover:

Everything you ever wanted to know about sex but weren't afraid to ask, in this handy how-to guide from celebrated sex educator Ducky Doolittle.

For more than a decade, Ducky has been teaching sex and performing her one-woman show, visiting hundreds of cities, where she has answered sex advice queries from virtually thousands of women and men.

In Sex with the Lights On, Ducky shares for the first time the questions most asked of her, among them: What's the best oral sex technique? Does every woman have a G-spot—and what are the top tips for locating it? Can men have multiple orgasms? How can a couple introduce anal sex into their relationship? What's the easiest way to heat up a marriage? Ducky not only answers each question with a sex-positive open mind, she gives readers permission to laugh and relax and to create the sex lives that best suit their own desires.