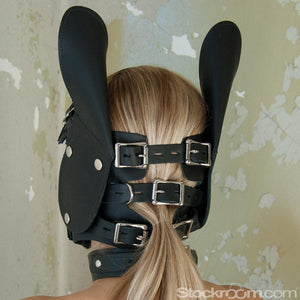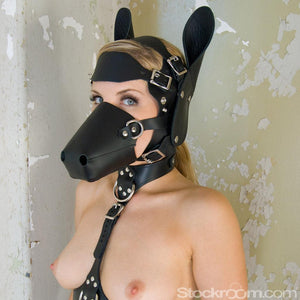 You could search the finest stables in the world for the rest of your life and never find a bridle set as intricate and beautiful as this one. Crafted by our own in-house design team, this set consists of a harness, a blindfold, blinders, and a muzzle. The harness has four adjustable straps: three to fit snugly around the skull, and one to secure under the chin.
The four snaps on the front of the harness allow for placement of the blindfold or the blinders. The blindfold itself is lined with extremely soft black sheepskin, making it a comfortable choice for prolonged use. The blinders are 4¾" long at their widest point, discouraging any thoughts of peripheral vision. The muzzle secures to the back of the head with an adjustable strap and has two air holes for ventilation.
In addition, this bridle set is compatible with many other S/M instruments such as Bit/Ball Gags and Leashes. Use your imagination to stretch the full potential of this set and make the other ponies shake their tails in envy.
Measurements:
Around the forehead: 19" - 26"
Under the chin and around the top of the head: 22" - 27"
Note: This item is produced in-house by our leather team in Los Angeles. In-house items display as "In Stock," and in a majority of cases we do have current stock on hand, but if not, the items will be made to order for you, and our customer service team will notify you promptly regarding any anticipated wait (usually just a few days). You will have the option to cancel if you do not wish to wait. If other items in your order are available immediately, the order may be sent in multiple parts.