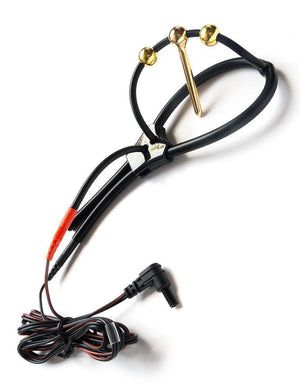 From the exacting German specialists at Mystim comes Plunging Pete, an advanced black silicone harness with soft adjustable straps that fit securely around the corona of your cock. But its thrilling centerpiece is its 3.5cm, 24k gold-plated urethral sound, flanked by two golden balls which can be re-positioned against the skin. Where gold touches your flesh, flowing current electrifies the nerves both inside and outside the sensitive glans, creating intense sensations that must be felt to be believed!
Whatever your size of cock head, Plunging Pete makes a perfect fit, thanks to a lasso-style ring that loosens or tightens to any level of comfort. Insert the dilator and position the gold balls to your preference. Once everything's in place, let the juice flow... and get ready to ride the lightning.
A water-based lubricant should be applied to the gold contacts to allow for the greatest conductivity. The black, medical-grade silicone of this e-stim harness is both comfortable and easy to clean. Plunging Pete requires an electric controller power source such as the Mystim Tension Lover or Pure Vibes unit.
Product Details:
• Cable Length: 42in/107cm
• Ring Diameter: Fully adjustable
• Urethral Sound Length: 1.375in/35mm
• Urethral Sound Diameter: 0.125in/3mm
Mystim accessories can only be used with the Mystim power units unless otherwise specified.