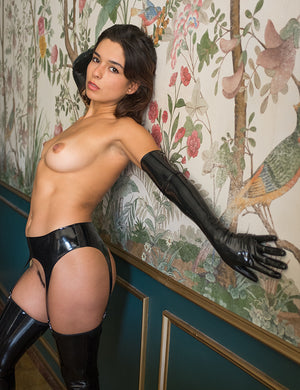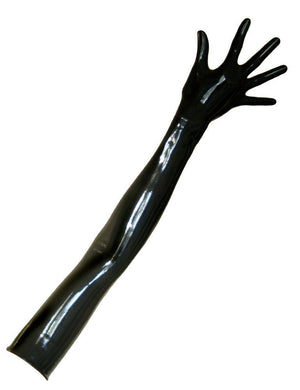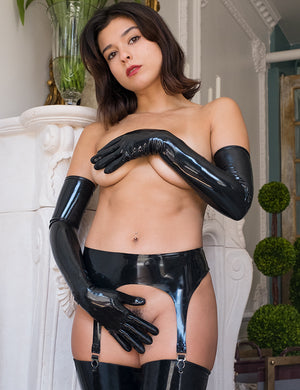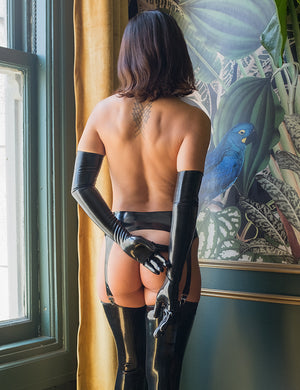 A quintessential accessory to your latex wardrobe, our Molded Opera Length Latex Gloves are seamless and imported from Germany. Dress any outfit up with a touch of these classy gloves. As comfortable as they are durable, these gloves will uphold their design and integrity even in the most heavy-duty situations.
We recommend applying talcum powder or Silicone Lubricant to both the skin and the interior of the glove to aid in the process.
We currently offer these gloves in Small, Medium, and Large sizes only.
Made of durable .44mm thick latex
Size Information:
•XS-SMALL: 23" Fingertip to End, 6 ½ Around Hand, 6" Around Wrist, 6 ½ At Forearm, 7 ½" At Elbow, 8 ¼" At Bicep, 10 ½" Around Shoulder
•MEDIUM: 23 ½" Fingertip to End, 8" Around Hand, 7" Around Wrist, 8" At Forearm, 8 ¾" At Elbow, 10" At Bicep, 11 ¼" At Shoulder
•LARGE-XL: 24" Fingertip to End, 8 ¾" Around Hand, 7 ¾" Around Wrist, 8 ½" At Forearm, 9" At Elbow, 10 ¼" At Bicep, 11 ½" At Shoulder
BG02101 Black, Small
BG02102 Black, Medium
BG02103 Black, Large