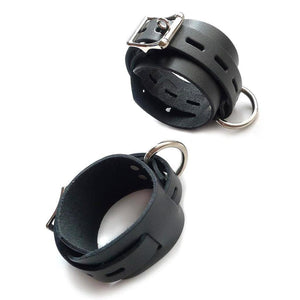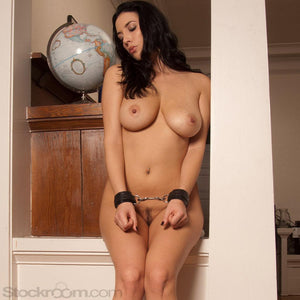 Our original leather bondage cuffs now accommodate both wrist and ankles! These cuffs are one of the earliest items that our founder, Joel Tucker, ever produced. Each bondage cuff has a lockable buckle on one piece of smooth and durable black latigo leather that wraps easily around twice.
These cuffs are 2" wide and now accommodate a size range of 5.5" to 12.5" with many holes for sizing increments. They feature a heavy-gauge D-ring that provides a point of attachment, and locks can be added for complete lockdown. This clever design has been a favorite from the beginning!
Product Details:
• These cuffs fit wrist or ankles measuring 5.5" to 12.5" around (14 - 32cm).
• A heavy-gauge D-ring provides a point of attachment.
• Locks can be added to the buckles for extra security, but are not necessary.
• Sold as a pair (two cuffs).
• Features a 7/8" locking center bar, roller buckle
• Accommodates padlocks such as the Baby Nickel Plated Padlock or the Master Lock Padlock (Small)
Note: This item is produced in-house by our leather team in Los Angeles. In-house items display as "In Stock," and in a majority of cases we do have current stock on hand, but if not, the items will be made to order for you, and our customer service team will notify you promptly regarding any anticipated wait (usually just a few days). You will have the option to cancel if you do not wish to wait. If other items in your order are available immediately, the order may be sent in multiple parts.