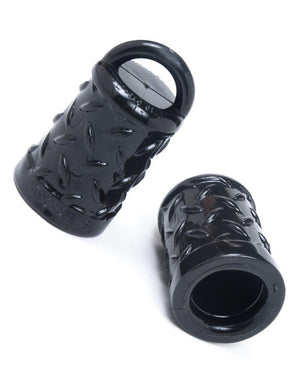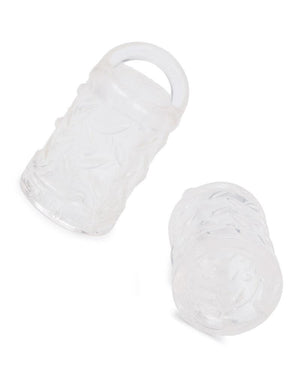 So simple, so good… Gripper Nipple Suckers deliver serious suction with a proven design including added function and style. Made by the notorious players at Atomic Jock, these tried and tested toys are sure to please nipple play fans across the globe.
Using these slightly tapered cylinders made of a flexible, phthalate-free TPR is so easy: simply apply some moisture to the bottom edge (spit, chapstick, lube - pick your poison!), squeeze them, and then stick them on eager and anxious nipples. A convenient little handle ring allows for all kinds of teasing and tortuous tugs. Each Gripper is even textured with a diamond plate detail for a look of added toughness.
An inexpensive addition to your arsenal, so essential you'll wonder how you lived without them.
Sold in pairs and available in your choice of black, for a bold look, or clear, for a better view.
Product Details:
• Made of Flex-TPR (Thermo Plastic Rubber)
• Phthalate-free
• Length: 2in/5.1cm
• Outer Diameter: 1.12in/2.85cm
• Inner Diameter: .75in/1.91cm
• Weight: 1oz/28.4g (pair)
• Available in Black or Clear
Safety, Care, and Usage:
Made from TPR, compatible with all lubricant types. Clean this toy with warm water and detergent soap. Allow to air dry completely before storage.