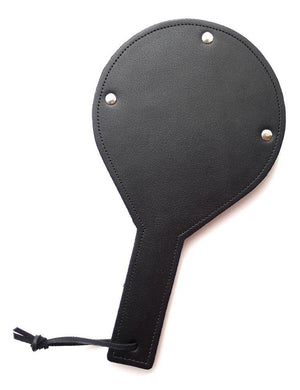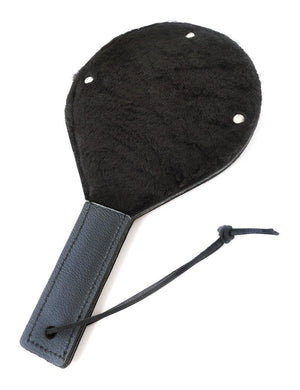 Persuasion is the process of bringing oneself or another toward the adoption of an idea, attitude, or action… and the sexy new Gentle Persuasion Paddle from The Stockroom and Stormy Leather will certainly help you get the job done in a most effective way.
This paddle has 2 different and fully functional sides to it. One side is covered in soft, sleek, imitation fur for a more sensually gentle spanking that combines the fun and thrill of petting with impact play. The other side is traditional heavy weight black leather that slaps and stings misbehavers in the very best way. These two sides contrast and complement each other excellently and work very well when you alternate while spanking.
The Gentle Persuasion Paddle is made from high quality heavy weight leather and soft imitation fur, and reinforced with stainless steel and a rigid yet flexible pressboard skeleton. There is a loop of black leather cord attached to the end for easy storage, hanging, and accessorizing.
Product Details:
• Overall Length: 11in (27.9cm)
• Width (at widest): 6in (15.3cm)
• Handle Length: 4.5in (11.4cm)
• Paddle Thickness: .5in (1.27cm)
• Weight: 0.4 lb (6.4 oz)