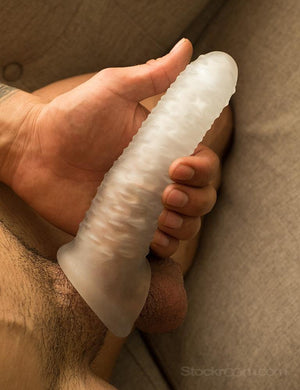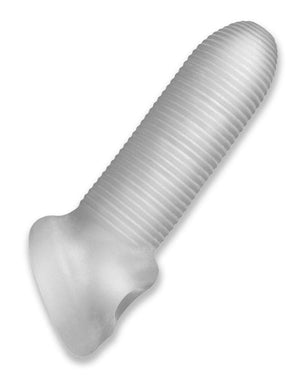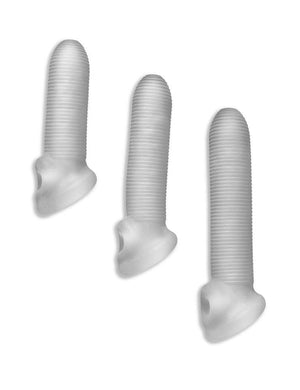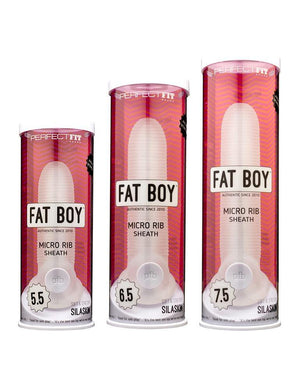 The beauty of the Fat Boy sheath is how good it feels both inside and out. Whether you're wearing it or taking it inside, it always adds something extra to penetrative sex. Certainly part of that is the extra girth — but even for the most dedicated size queen, that's only part of what makes the Fat Boy such an incredible addition to your sex life.
The Fat Boy is made from a proprietary blend of silicone and TPR that gives it just the right combination of flexibility and firmness. For the partner being penetrated, it creates a satisfying, full feeling, while bending just enough to fit the contours of their body. If you're wearing it, the insides are lined with ribs and nubs that massage every bit of the shaft, while a ring at the base does double duty by securing the sheath for rough, enthusiastic action and giving the scrotum a nice strong pull as you thrust back and forth. It's a great safer-sex toy that also lets you indulge in your favorite "monster cock" fantasies.
Ideal for...masturbation, cock play.
Product Details:
• Made of body-safe silicone and TPR
• Fat Boy Micro Rib Sheath 5.5" - Medium
• Fat Boy Micro Rib Sheath 6.5" - Large
• Fat Boy Micro Rib Sheath 7.5" - Extra Large
• All add 0.7" girth.
SKU: G520 - 5.5"
SKU: G521 - 6.5"
SKU: G522 - 7.5"