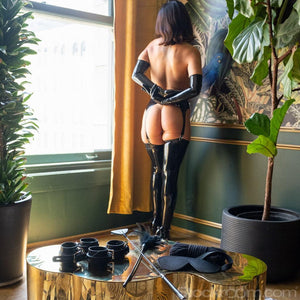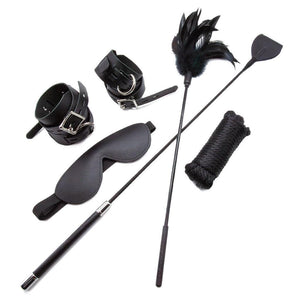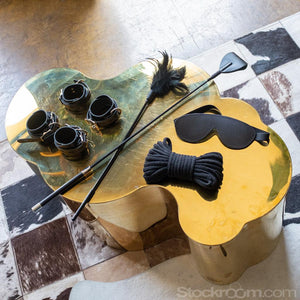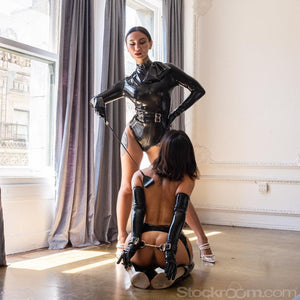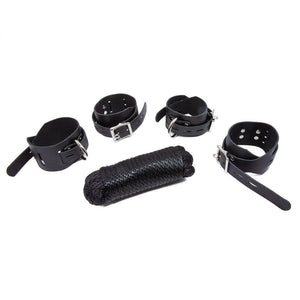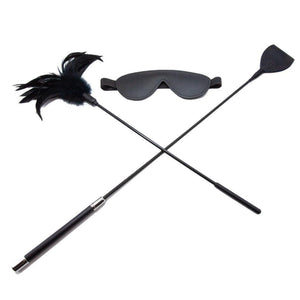 Finally, a high-quality, inclusive kit for those wanting to dip a toe into the world of BDSM, or for the discerning kinkster that wants a great deal.
Our Bondage 101 kit consists of a great collection of Stockroom favorites including:
Locking/Buckling Leather Bondage Restraints: These cuffs are some of the earliest items that JT ever produced. Each cuff has a lockable buckle on one piece of smooth, strong leather that wraps easily around the wrist or ankle twice. There are many holes for many sizing increments. A heavy-gauge D-ring provides a point of attachment. Locks can be added for complete lockdown, but the cuffs will stay fastened without them. The kit includes two pairs of these cuffs.
25 Feet of Black Nylon Rope: This soft, strong rope is durable, washable, and can be used all in one piece or cut into smaller lengths as you desire. Wherever you cut the ropes, flame the ends lightly to fuse the fibers together into a neatly sealed tip so it won't unravel.
Padded Leather Blindfold: This hand-sewn, high-quality leather blindfold has contoured padding for extra eye comfort and is held in place by a black elastic band.
Wide End Riding Crop: This beautiful black riding crop is one of our favorites. The fiberglass core is 26" long and covered in nylon braiding. The handle is unique, made of quality supple leather, and capped with nickel. This baby sings when you swing it and with its own built-in traction, won't slip out of your hand no matter how much of an impact you make.
Black Feather Tickler: Six inches of fluffy feathers are clustered on a wand for tickling. The black wand is 15" long and made of slightly flexible plastic.
Note: This item is produced in-house by our leather team in Los Angeles. In-house items display as "In Stock," and in a majority of cases we do have current stock on hand, but if not, the items will be made to order for you, and our customer service team will notify you promptly regarding any anticipated wait (usually just a few days). You will have the option to cancel if you do not wish to wait. If other items in your order are available immediately, the order may be sent in multiple parts.