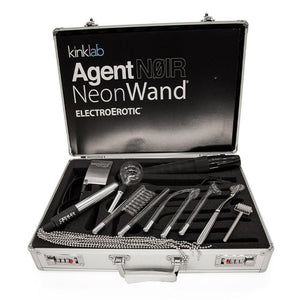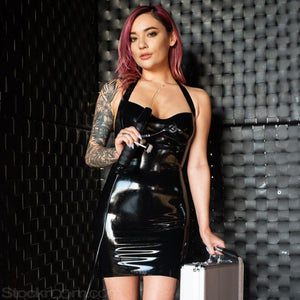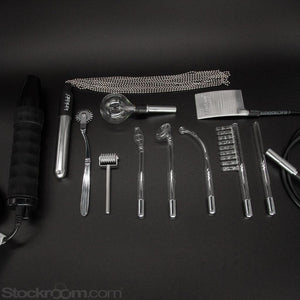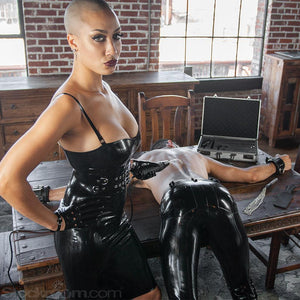 If your fantasies have ever included being a secret agent, sneaking through Checkpoint Charlie by the skin of your teeth, you're going to love our newest elite ElectroErotic™ device set, the Agent Noir™ Neon Wand Electrosex Kit!
Experience electrifying intrigue and mysterious midnight rendezvous with the aid of our exclusive new all-black Neon Wand, and a custom assembled set of purple electrode accessories, all nestled securely in a silver combination lock attache case.
The Agent Noir Neon Wand kit contains all of the following items:
The Neon Wand® – A solid-state device with no moving parts, making it possible to move and change the angle of the wand without distracting interruptions or unexpected variations in the output.
The Power Tripper™ – Allows you to generate sensually stimulating sparks whenever - and wherever - your skin comes in contact with your partner's. Just imagine the tantalizing possibilities...including mind-blowing oral electro sex!
The Electro Whip – This multi-chain flogger works great with the Power Tripper™. The handle probe turns the whole body into a lightning rod, and the multi-chain flogger sends elaborate spark sensations through the tiny chain links.
The Bulb – This clear spherical bulb can be attached to the Neon Wand to create an effect similar to that of a plasma globe. More visually striking than seriously shocking, this is a great electrode to lead off with to set the mood for intimacy...or interrogation!
The Comb – This is one of the most popular styles in electro play. The teeth of the comb evenly disperses a soft flow of electricity that can be used to caress and tease and the tip of the comb can be used for a strong and concentrated spark.
The Pinwheel – When using the Power Tripper™ attachment, this metal wheel of prickly little pins can be rolled over a person's skin, generating a somewhat intense shock.
The Tongue – The bulb of this electrode tapers to a snub nosed end, giving it the appearance of a tongue, or a small, electrified snake's head.
The Mushroom – Features a rounded flat-head, emitting a gentle, tickling, wide arc of beautiful blue light to guide your explorations across your partner's sensitive parts, making them squirm with delight.
The Rolling Drum – When using the Power Tripper™ attachment, this compact roller creates an exciting and intense prickling sensation. Roll over the body and watch the sparks fly!
The Probe – Simply drag this glass rod gently across yours or your lover's skin and enjoy a sensation that ranges from soft to intense, depending on the setting.
The 90 degree – With its smaller & precise tip, you can give a more focused and intense sting to your partner by pressing on the exact spots you want them to feel the spark.
Silver Attache Case – Keep your secrets safe with this combination lock padded carrying and storage case.
Technical Specs:
• Working Frequency: 50-60HZ
• Power: 10W
• Amperage: Low-end output (0.4A and 2.5W) and High-end output (0.5A and 5W)
• Dimensions: 13" X 8" X 2 1/3" / 33 X 21 X 6cm
• Materials: PPV Plastic Hardware + Copper Tube + Glass Rods
• Available in both USA 110 and European 220 voltage.
• Can be used up to 25 - 30min at a time
Due to the sensitive nature of the gas and the electrodes the color may vary between batches and individual electrodes. Every measure is taken to make them as uniform as possible, but slight differences do occur. This does not in any way affect the quality or performance of any part of this device.
Safety, Care, and Usage:
Follow all manufacturer's directions and safety instructions. Clean probes with isopropyl alcohol (75% or greater). Allow alcohol to dry and evaporate completely before use.
Please Note: DO NOT use the Neon Wand® on people with pacemakers or any heart conditions, or pregnant women.