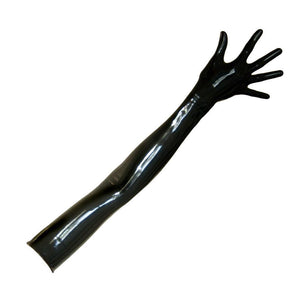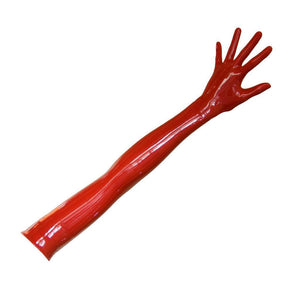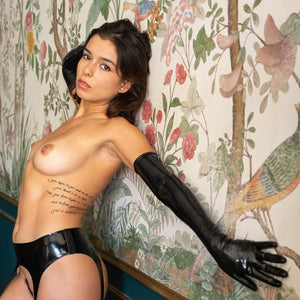 A quintessential accessory to your latex wardrobe, these molded Opera Length Latex Gloves are seamless. Dress any outfit up with a touch of these classy and sexy gloves. As comfortable as they are durable, these gloves will uphold their design and integrity even in the most heavy-duty situations.
We recommend applying talcum powder or Silicone Lubricant to both the skin and the interior of the glove to aid in the process.
Please note: Since these gloves are imported, they will arrive slightly powdered to help protect the latex material during transit. Once you are ready to wear them, we recommend applying a latex shiner or silicone lubricant to give these gloves a beautiful shine (latex shiner/silicone lubricant sold separately).
Made of durable .4mm thick molded latex. Available in four sizes in colors Black and Red. 
The Opera Length Glove measurements are as follows:
•Extra Small: 6.8" Around Hand, 5.6" Around Wrist, 6" Around Forearm, 7" Around Elbow, 8.4" Around Bicep
•Small: 7.4" Around Hand, 5.6" Around Wrist, 6" Around Forearm, 7" Around Elbow, 9" Around Bicep
•Medium: 8" Around Hand, 6.4" Around Wrist, 8" Around Forearm, 8.4" Around Elbow, 10" Around Bicep
•Large: 8.4" Around Hand, 7" Around Wrist, 8.4" Around Forearm, 9.2" Around Elbow, 10.6" Around Bicep