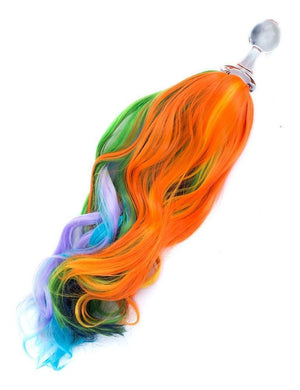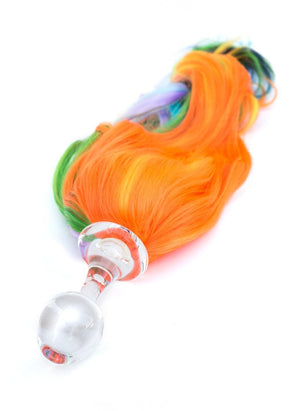 The combination of silky, synthetic animal hair and sturdy glass sculpture makes this ponytail butt plug from Crystal Delights a must-have toy for fun-loving ponies and their trainers. Available in rainbow colors, this high-quality, handcrafted adult toy will surely get your little pony whinnying with pleasure.
Uniquely tapered, the individually-made anal plug has a wide, rounded bulb and a narrow neck attached to a thick, heavy base. The dense, shatter-resistant, nonporous borosilicate glass is easy to clean. If necessary, you can spot-clean the mane of wavy hair with a damp rag, then hang up to let dry.
Product Details:
• Made of body-safe, phthalate-free borosilicate glass
• Tail is detachable and made of high-quality synthetic wig hair
• Tail Length: 15.5in/39.4cm
• Plug Length: 3.6in/9.1cm
• Insertable Length: 2.9in/7.4cm
• Bulb Diameter: 1.5in/3.8cm
• Weight: 5oz
Shipping Notes:
This will be drop shipped directly from the manufacturer, separately from other items (please allow 3-5 days). Certain international orders are not available, please contact our Customer Service to inquire. Express shipping is not available for this item.