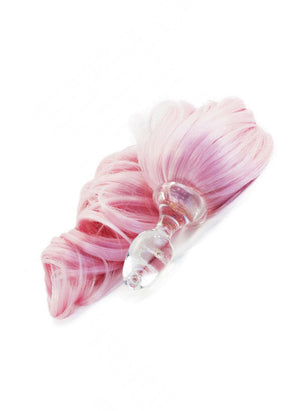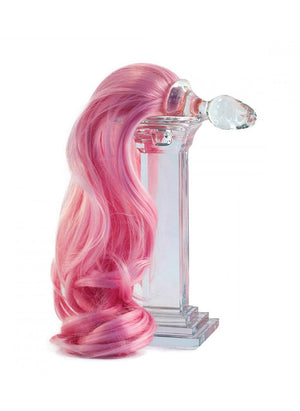 Finally, we have a glass plug that will allow every pony to stride up and down the length of the dungeon with pride and dignity! Who could resist the chance to bend over and flaunt the sleek, pink tail attached to this high-quality borosilicate glass plug? If you haven't had a chance to take your inner pony out for a ride, one glance at this will certainly tempt them out into the open.
Unlike many tail plugs, this one has the added convenience of making the tail detachable; screw it on or off, depending on how you're feeling, and you're ready to go. By itself, the plug is of highest quality, with graceful curves made for easy entry.
Product Details:
• Made of body-safe, phthalate-free borosilicate glass
• Tail is detachable and made of high-quality synthetic wig hair
• Tail Length: 15.5in/39.4cm
• Plug Length: 3.6in/9.1cm
• Insertable Length: 2.9in/7.4cm
• Bulb Diameter: 1.5in/3.8cm
• Weight: 5oz
Shipping Notes:
This will be drop shipped directly from the manufacturer, separately from other items (please allow 3-5 days). Certain international orders are not available, please contact our Customer Service to inquire. Express shipping is not available for this item.