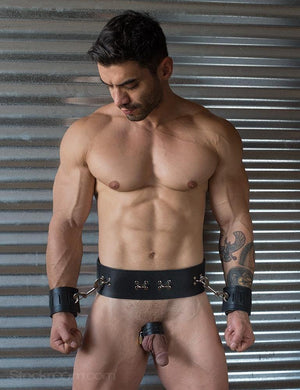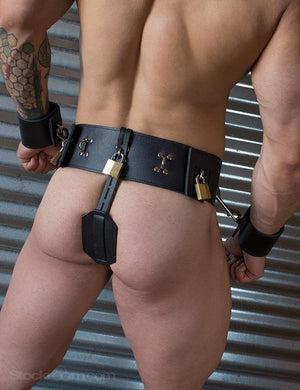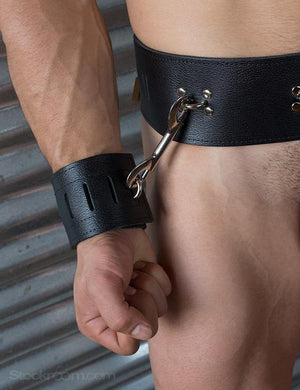 The Prisoner Belt is a black leather prisoner-bondage belt combined with a removable butt plug harness and a locking cock-strap. This belt-harness is constructed from a combination of both heavy and light Latigo black leather, and nickel-plated metal plate staples.
There is no other product on the market quite like this one. It's more than a prisoner belt and more than a bondage belt. With the added bonus of having an anal plug harness and a special strap for binding the cock, this prisoner belt is the most versatile bondage belt or harness you'll find.
The small/medium size will fit a 28"-34" waist. The large/extra large size will fit a 36"-44" waist. The belt is 3¼" wide and has 6 strategically placed D-rings to lock the black leather wrist cuffs to. The wrist cuffs are adjustable and have a varying circumference of 5"-9". They also have nickel-plated metal D-ring-shaped plate staples and are 2¾" wide.
The cuffs allow the wrists to be buckled and locked to the waist, restricting the movement of the hands and arms. The extra D-rings allow chains to be added, and a collar or ankle cuffs can be incorporated, (collar, ankle cuffs, locks, and chains are not included).
The adjustable and lockable cock and ball strap has a varying circumference that measures 4¾"-7", allowing you to bind the cock and balls. The anal plug harness is removable.
Locks are not included
SKU: J399 (S/M)
SKU: J400 (L/XL)
Note: This item is produced in-house by our leather team in Los Angeles. In-house items display as "In Stock," and in a majority of cases we do have current stock on hand, but if not, the items will be made to order for you, and our customer service team will notify you promptly regarding any anticipated wait (usually just a few days). You will have the option to cancel if you do not wish to wait. If other items in your order are available immediately, the order may be sent in multiple parts.