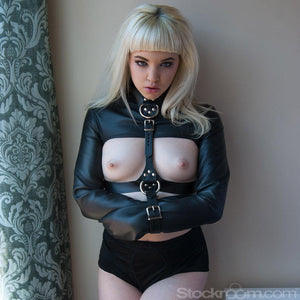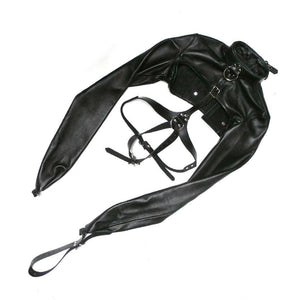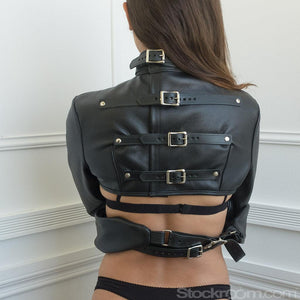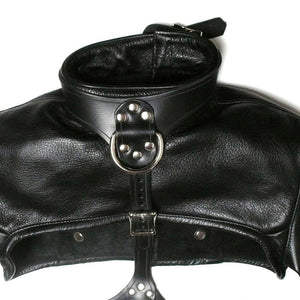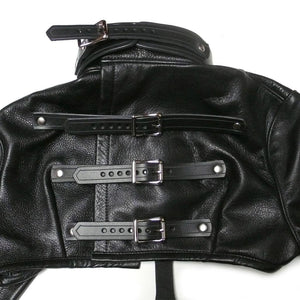 Sexy. Sensuous. Functional. What more could you ask for in a straitjacket? How about stylish, innovative, and chic?
The Bolero® Straitjacket is all of these and more in a cropped straitjacket made of high quality, light, and medium weight garment leather, latigo belting, and nickel-plated hardware.
Like a traditional straitjacket, our Bolero® Straitjacket has a buckling collar and back closures in addition to the extra long glove-like sleeves that extend beyond the fingertips. The sleeves end with a small rectangular ring on one and a 1" wide strap on the other.
The features that make it unique are its cropped length and the vertically and horizontally adjustable chest strap which leave nearly the entire chest and back exposed. The proper positioning assured by the cropped feature and the adjustable chest strap makes the traditional crotch strap unnecessary without sacrificing functionality as a restraint. The two heavy gauge D-rings provide additional points for attachment.
Designed and manufactured in our Los Angeles facilities, this quality hand-crafted Bolero® Straitjacket is available in XS through 2X-Large.
Size Details:
Neck Size
XS: 13.5in-15.5in
Small: 14in-16in
Medium: 14.5in-16.5in
Large: 15in-17in
XL: 15.5in-17.5in
2XL: 16in-18in
Upper Bust
XS: 31in-33in
Small: 29.5in-34.5in
Medium: 34in-36in
Large: 35.5in-37.5in
XL: 37in-39in
2XL: 38.5in-40.5in
Shoulder to Shoulder
XS: 13.5in-15.5in
Small: 14in-16in
Medium: 14.5in-16.5in
Large: 15in-17in
XL: 15.5in-17.5in
2XL: 16in-19in
Bicep
XS: 12in
Small: 12.5in
Medium: 13in
Large: 13.5in
XL: 14in
2XL: 14.5in
Note: This item is produced in-house by our leather team in Los Angeles. In-house items display as "In Stock," and in a majority of cases we do have current stock on hand, but if not, the items will be made to order for you, and our customer service team will notify you promptly regarding any anticipated wait (usually just a few days). You will have the option to cancel if you do not wish to wait. If other items in your order are available immediately, the order may be sent in multiple parts.