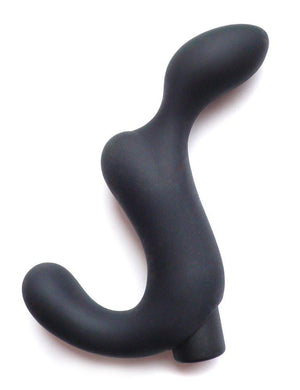 German design firm Fun Factory® is renowned for its ergonomic sex toys in high-quality materials, and "The Duke" – a rechargeable, cordless anal vibrator that stimulates both the prostate and perineum – is no exception. The unique shape combines an upper bulge that hits your P-spot with a curved short end that rubs the sensitive spot under your balls in front of your anus. Made of 100% medical-grade silicone, The Duke lets you give yourself a prostate massage that will send you into orgasmic fits! Three-speed settings let you set your own pace; 3 different pre-programmed vibration patterns give you a variety of stimulating sensations.
No fumbling with cords or expensive, short-lived batteries! The Duke cordless prostate massager comes with Fun Factory's® special CLICK'N'CHARGE® magnetic base, which secures and charges the toy through the metallic points on its bottom side while it rests in the base. Always put the toy away in its base, so it's ready to go the next time you take it out to play! A sample package of Fun Factory® Toyfluid lube is included so you can get down to business as soon as you open the box. This high-class Duke is sure to please!
Product Details:
• Insertable prostate stimulating end is 1.2in (3cm) thick at its widest point.
• Total Length: 6.25in (15.9cm)
• Insertable Length: 2.75in (7cm)
• Available in Black
Safety, Care & Usage:
Play safe and clean after each use. Silicone cleans easily with antibacterial soap and warm water. Avoid immersing metallic charging contact points in water and let toy air dry. Do not boil this toy as it will destroy the vibrating mechanism.
SKU: E135