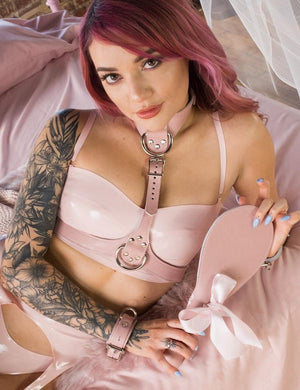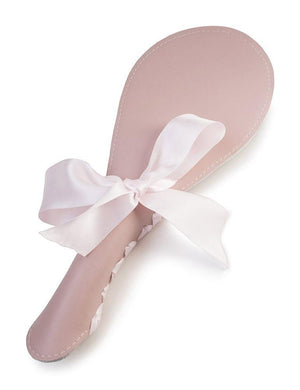 The true beauty of the Stupid Cute Spanking Paddle is that at first glance, it's the sweetest and most adorable thing you could imagine. The baby-pink leather, accented by a satin pink ribbon tied neatly around the handle is so cute that you might have to stifle a smile — even a giggle or two.
Don't be fooled, though; this paddle can easily dish out the cruelest discipline in the dungeon. It has no problem turning a naughty bottom bright red — or even black and blue if they've been especially naughty. Remind everyone in the dungeon that underneath the curls and pretty clothes, femme power is a force to be reckoned with.
Ideal for… impact play, BDSM, submissive punishment & training, spanking, DD/lg, slaves, brats.
Product Details:
• Made of baby pink leather and pink satin
• Overall length: 12in/30.5cm
• Body (Paddle) Width: 4.75in/12.1cm
• Handle width: 1.25in/3.2cm
Note: This item is produced in-house by our leather team in Los Angeles. In-house items display as "In Stock," and in a majority of cases we do have current stock on hand, but if not, the items will be made to order for you, and our customer service team will notify you promptly regarding any anticipated wait (usually just a few days). You will have the option to cancel if you do not wish to wait. If other items in your order are available immediately, the order may be sent in multiple parts.