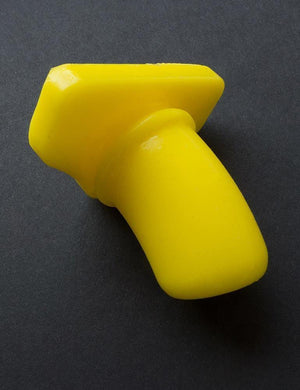 The Urinal Piss Gag from OxBalls is an innovative new BDSM sex toy that will bring joy and new adventures to even the most seasoned water sports and golden shower enthusiasts. Made from soft flexible black platinum cure silicone and top quality neoprene, this gag will transform the face and mouth into a fully functioning piss trough.
The Urinal Piss Gag comes with a removable yellow silicone tube gag and can be replaced with one of 3 other piss gag inserts, sold separately (scroll down for images).
The adjustable velcro black head strap is a full two feet long and can accommodate a small to a large head, while the trough is large enough to allow two people to urinate at once. This device is very easy to use, wear, and clean. Take your BDSM play to a whole new level and turn your submissive, slave, toy, or pet into a working urinal with this kinky new piss gag from OxBalls.
Product Details:
• Short Tube- insertable length: 2in (5.1cm)
• The Short Tube insert is smaller, shorter, and easier to wear. This insert is perfect for beginners and those still in training. The wearer can clamp down to stop
Safety, Care and Usage:
This Urinal Piss Gag insert is all easy to clean using warm water and anti-bacterial soap and can also be cleaned in the dishwasher. Always remember to play safely.