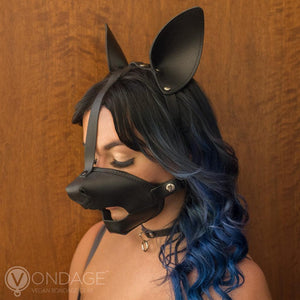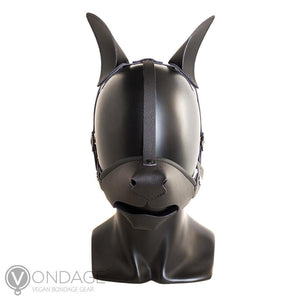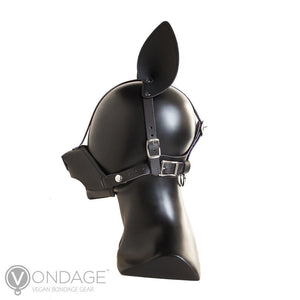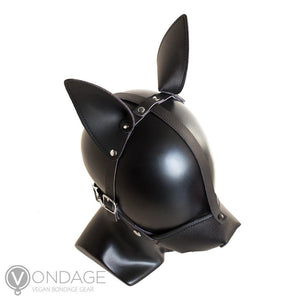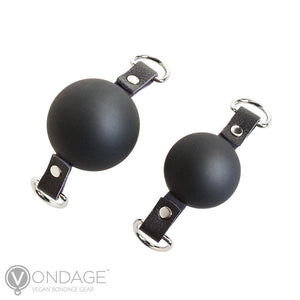 Our favorite K9 Muzzle is now vegan friendly! We're happy to announce that our K9 Muzzle with Removable Silicone Ball Gag is now featured in our Vondage vegan bondage collection. This puppy play muzzle is made for those who want to experience animal role-play outside the restrictive confines of our puppy hoods, as it allows for more facial expression by the wearer, while the removable leather strap and silicone ball gag make sure your pup stays silent when necessary.
All straps are secured with adjustable non-locking buckles for a firm but comfortable fit. The back of the muzzle features a D-ring for easy leash attachment.
Ideal for...Bondage Play, Vegan Kinksters, BDSM, slaves, submissives, Puppy Play, Animal Role-play.
Product Details:
• Made of 6oz leather with glove leather lining and binding
• Nickel-plated hardware
• Comes with 1 small (1.6in/4.1cm) and 1 large (2in/5.1cm) silicone ball gags
• Removable ears
• Available in 2 sizes: S/M and L/XL
Size Specs:
S/M Measurements:
• Muzzle strap circumference: 13in/33cm-19in/48.3cm
• Top strap length (Bridge of nose to base of head): 14.5in/36.8cm-20.5in/52.1cm
L/XL Measurements:
• Muzzle strap circumference: 19in/48.3cm-25in/63.5cm
• Top strap length (Bridge of nose to base of head): 16.5in/41.9cm-22.5in/57.2cm
Safety, Care & Usage:
With a damp washcloth and hand soap, rub-down the vegan microfiber material and dry completely. Do not expose material to excessive heat.
SKU: J744S (S/M)
SKU: J744L (L/XL)
Note: This item is produced in-house by our leather team in Los Angeles. In-house items display as "In Stock," and in a majority of cases we do have current stock on hand, but if not, the items will be made to order for you, and our customer service team will notify you promptly regarding any anticipated wait (usually just a few days). You will have the option to cancel if you do not wish to wait. If other items in your order are available immediately, the order may be sent in multiple parts.