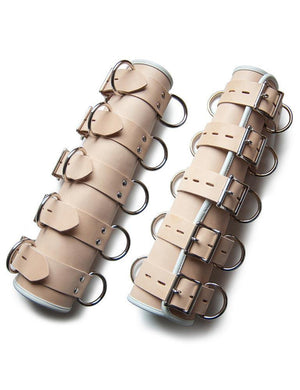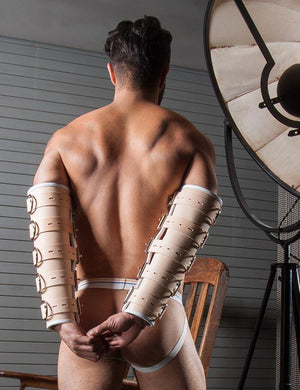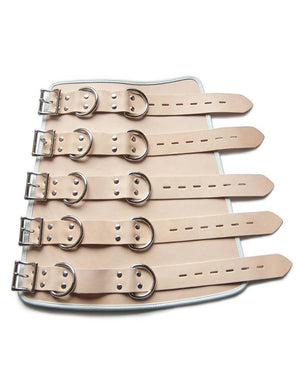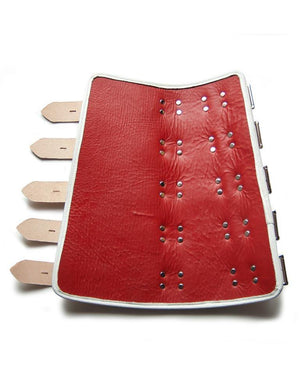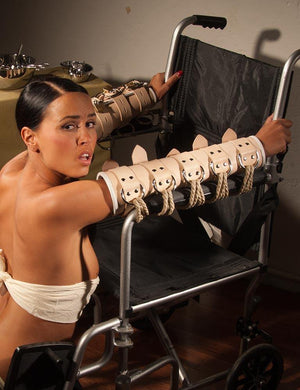 The deluxe medical version of our classic arm splints adds a sleek new look to these full arm bondage restraints. They provide complete immobilization of the arm and elbow, and can be secured to each other, to a tie-ring, or to a piece of furniture through one or more of the 10 D-rings on each splint. Your medical fetish fantasies are about to become much more real...
We're not sure if these arm splints are standard issue for hospitals and institutions, but they should be. What better way is there to help soothe the troubled patient than by making sure they are unable to harm themselves or injure their caregiver during any procedures you might feel compelled to perform?
These splints are made of the same rich tan leather as the rest of our medical restraints line, The binding and interior lining of the splints is made of high-quality garment leather.
Our Deluxe Medical Restraints line is a passion project for the design team here at The Stockroom. Each piece is hand-crafted and assembled in our Los Angeles workshop from high-quality leather and nickel-plated hardware. Make sure to pick up our matching padded wrist and ankle cuffs, and our posture collar.
Product Details:
• Wrist: 5in-10in (12.7cm-25.4cm)
• Mid arm/Elbow: 7in-12in (17.8cm-30.5cm)
• Bicep: 9in-14in (22.9cm-35.6cm)
• Length from wrist to bicep: 16in (40.6cm)
• Premium arm splints are sold as a pair.
• Features a 1.5" locking center bar, roller buckle
• Accommodates padlocks such as the Baby Nickel Plated Padlock or the Master Lock Padlock
Note: This item is produced in-house by our leather team in Los Angeles. In-house items display as "In Stock," and in a majority of cases we do have current stock on hand, but if not, the items will be made to order for you, and our customer service team will notify you promptly regarding any anticipated wait (usually just a few days). You will have the option to cancel if you do not wish to wait. If other items in your order are available immediately, the order may be sent in multiple parts.