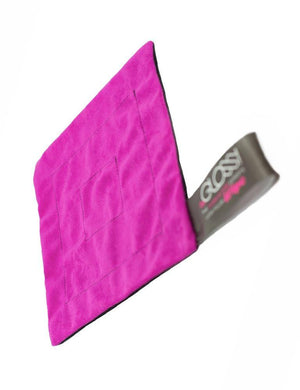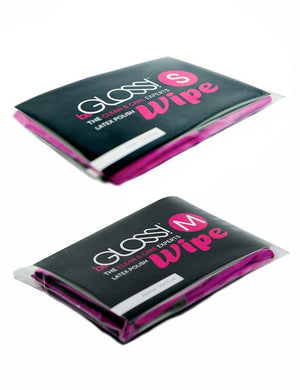 beGLOSS WIPE is the perfect shine polishing cloth for latex clothing. Your latex clothing will have an ultra-high gloss shine that's dry to the touch. Experience a whole new level of comfort and convenience! This specially-designed latex polishing cloth is double-layered with black and pink microfibre. Thanks to the exceptionally fine fibre structure of the beGLOSS WIPE, this clever latex polishing cloth immediately absorbs just the right amount of beGLOSS Perfect SHINE and leaves no lint or streaks as you create the ultimate high-gloss shine.
Simply spray the black side with beGLOSS Perfect Shine and smooth it over your latex. Now flip it over to the pink side and buff the latex to get a perfect mirror finish.
*Important note: The best polishing results are achieved with freshly washed latex clothing. For best results, wash your beGLOSS WIPE with the beGLOSS SPECIAL WASH LATEX CLEANER.
Ideal for…latex clothing cleaning, latex shining, latex fetish, latex fashion.
Product Details: • Latex polishing cloth for a high gloss shine that's dry to the touch. It's magic! • Immediate results – A perfect mirror finish without the stickiness • Economical - With the beGLOSS WIPE and how it's used, you only need an incredibly small amount of latex polish • Environmental – Our beGLOSS WIPE is reusable and washable with beGLOSS SPECIAL WASH LATEX • Helps to protect your latex clothing and other latex items from polish residue build up • Leaves an erotic high gloss shine without leaving unsightly streaks or lint • Creates a non-stick, anti-static finish • The cloth is super soft and handy, thereby avoiding surface damage to your latex clothing • Designed and handmade in Germany by latex lovers, for latex lovers • Microfiber