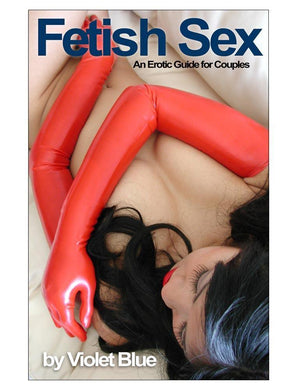 This book is written for the fetishist, for their lovers and for anyone who wants to make a fetish into a sex toy. Or, to maximize a fetish, figure out if you have a fetish, how to talk about it with a lover, "come out" about your fetish, or find community—or just hot porn. Most everyone has a fetish, and while sensationalizations are fun to watch, they often get their facts wrong, and miss the point that lots of people have really hot sex with their fetishes, and with lovers who share that fetish. No one's necessarily "sick", they're just having more fun than most.
Fetish Sex: An Erotic Guide for Couples
demystifies and breaks down the definition of a fetish, takes the time to explain why the fetish is alluring and what to do when one is curious about how to play with that fetish. Violet Blue's frank and friendly introduction to the world of fetish includes practical advice, sensual perspectives, and erotic short stories by Thomas Roche to tantalize and inspire.
Roleplaying, Fetish Dressing, Cross Dressing, Human Animal Play, Medical Play and Confessions are some of the topics covered in this informative and entertaining couple-centered guide.
Violet Blue
is an author, editor, robot mechanic, female porn expert, and professional pro-porn pundit. She is the Assistant Editor at Fleshbot.com by day, and a human blog by night. She is the editor of six erotic anthologies and the author of five sex ed books, two of which have been best-selling sex advice books since their release and have been translated into French, Spanish and Russian.
Thomas Roche's
erotic stories have appeared in hundreds of magazines, websites and anthologies including the Best American Erotica series, the Best New Erotica series, and many other anthologies. He is currently Managing Editor of Eros Zine.
A
Daedalus Publishing
title.
ISBN: 1-881943-23-2
8.5" x 5.5" / Non-fiction with Erotic Story Excerpts