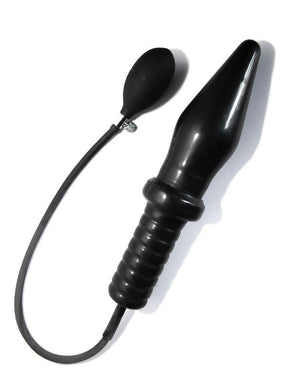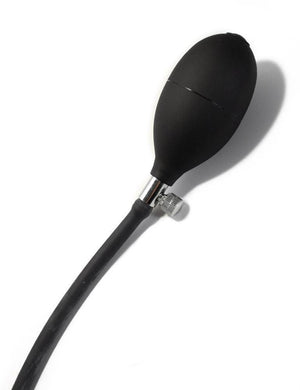 How big is your ass? How big can it be? Here's a plug that will put your anal capacity to the test. Already clocking in at a very respectable 3.5" in diameter, the hand bulb allows you to slowly inflate the shaft until your ass (or your partner's) just can't take any more. A simple twist of the valve releases the air to withdraw the plug or just ease the pressure a bit. For those who love the sensation of getting filled up all the way, it's an extremely satisfying piece of gear to have around the dungeon.
Once the plug is inside and inflated, the handle gives you more options for control: Thrust it back and forth or turn it slowly inside the bottom for extra stimulation. We've found a lot of ways to play with this naughty little inflatable, and we're sure that we haven't exhausted them all yet.
Product Details:
• Total Length: 12in (30.5cm)
• Insertable Length: 6.9in (17.5cm)
• Plug Diameter: 2.75in (7cm)
Safety, Care & Usage:
Wash with warm water and soap. Dry with a lint-free towel and store away from dust and out of direct sunlight.