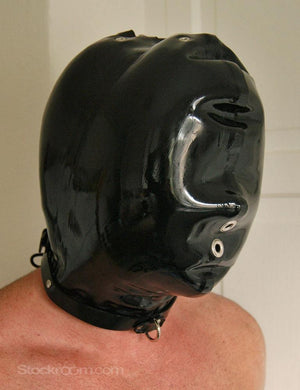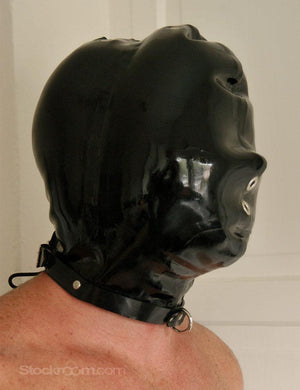 This deluxe padded rubber hood emulates the squishy sensation of an inflatable hood without having to inflate it.
It works well for sensory deprivation and breath control. The hood is handmade with a 30-gauge latex exterior with a 14-gauge latex interior. There are 2 nickel-plated grommets for breathing holes, and 16 lacing hooks that lace up the back for an adjustable fit. It has a belted collar with a locking buckle.
The breathing holes allow enough air to get through for breathing. However, people with respiratory problems should not wear this hood.
Size Details:
• Small/Medium: Forehead Circumference: 20"-25" Collar Circumference: 13"-17"
• Large/XLarge: Forehead Circumference: 23"-28" Collar Circumference: 16"-20"
All Syren items are made to order, just for you, and will take 4-6 weeks turnaround time by our Los Angeles production team.
NOTE: The default color for this item is Black. For this item in a different color or size, call us at 1-800-755-TOYS or 1-213-484-3882 or email info@stockroom.com to place your custom order. Please note that a custom surcharge fee will apply.