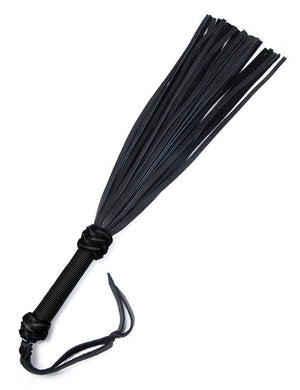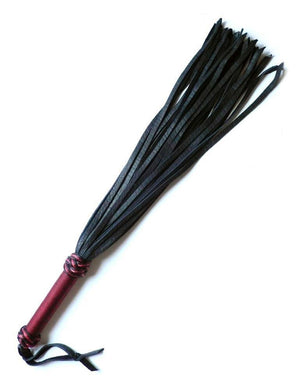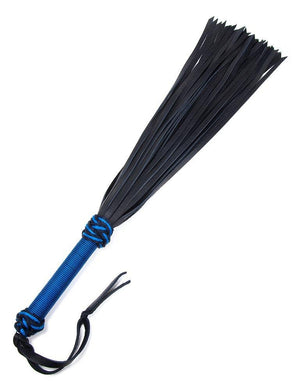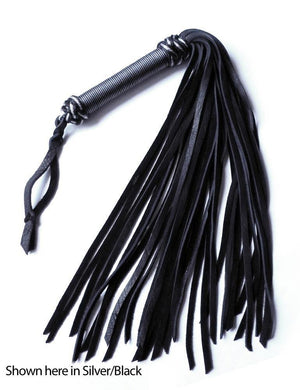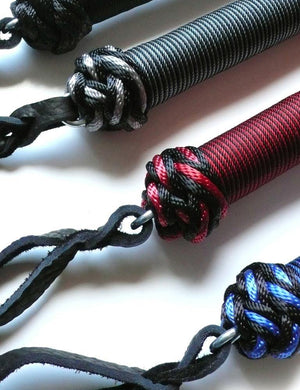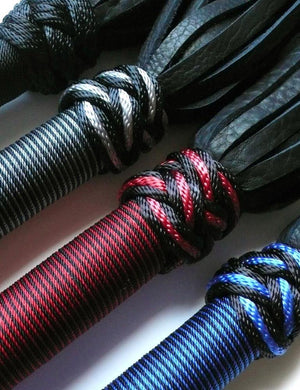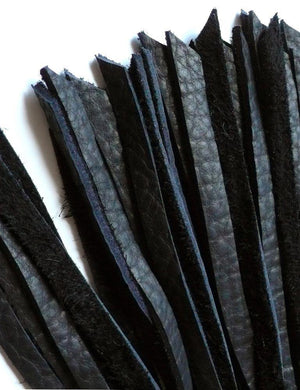 For the flogger connoisseur, this 30" Elk Hide Flogger with intricate handle detailing is a stunning addition to any collection. The dyed black elk hide is luxurious, thick and spongy with straight cut tips, making it perfect for sensual play. However, put a bit of muscle into your throw and this flogger delivers a smacking thud as well. The leather wrapped steel rod handle is wrapped in alternating colors of nylon cord, and topped with a nylon cord Turk's Head knot. A leather wrist strap is attached.
Product Details:
• Total length is 30in/76.2cm
• Length of tails is 21in/53.34cm
• Width of tails is .25in/.63cm
• Handle length is 9in/22.86cm
• Grip circumference is 4in/10.16cm
Available in the following colors:
• Silver/Black (Exclusive to Stockroom)
• Red/Black
• Black
• Blue/Black
Safety and Usage:
Break in and keep your whip in shape with regular use, while keeping it free of moisture or dirt. Both dirt and water will damage the whip and ruin it quickly. Many leather conditioners are designed to soften and moisturize, and therefore should be used sparingly or not at all.
Shipping Notes:
This will be drop shipped directly from the manufacturer, separately from other items (please allow 3-5 business days). Certain international orders are not available, please contact our Customer Service to inquire. Express shipping is not available for this item.