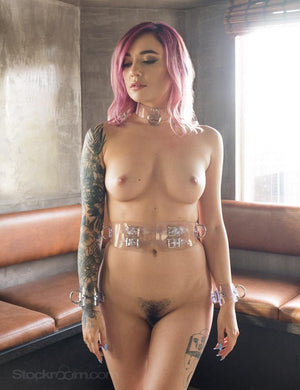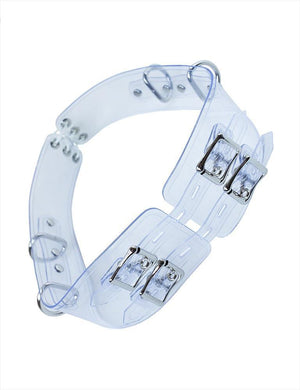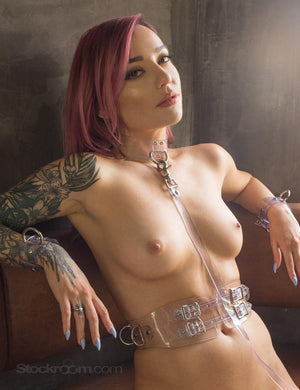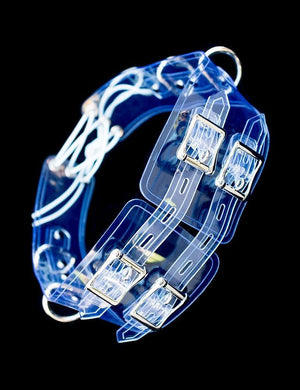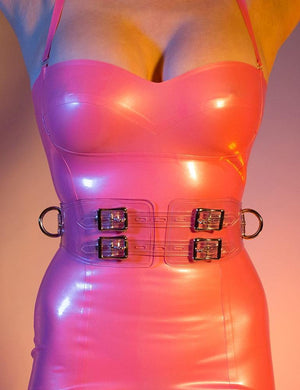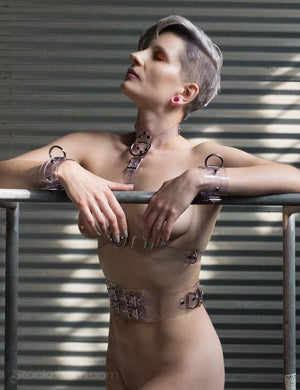 Need more points of attachment, but still want to see each sexy curve of their body? That's what the Clear CTRL Waist Cincher is set out to do for you! Reinforced with metal studs to make it stand up to even the most forceful pulls and tugs, this bondage waist cincher pairs well with any of your gear, and can even be worn during the day as an out-of-this-world fashion piece.
Two D-rings on each side can be used to attach a variety of leashes or straps opening up a wide variety of possibilities. The back of the cincher acts as a corset by means of three metal grommets on each side, through which a rope is used to lace up the belt. Since this belt is tied with rope, it allows for it to be slid down and also used as a leg binder.
Ideal for... BDSM, bondage, space roleplay, futuristic roleplay, cyber roleplay, sci fi roleplay, voyeurism, submissive training, slave training, BDSM Fashion.
Product Details:
• Available in 5 sizes: XS, S, M, L & XL
• XSmall: Fits waist 23.5-25in/60-63.5cm
• Small: Fits waist 25.5-27in/65-69cm
• Medium: Fits waist 27.5-29in/70-74cm
• Large: Fits waist 29.5-32in/75-81.3cm
• XLarge: Fits waist 32.5-36in/83-91.4cm
• Four 1in/2.5cm D-Rings
• Four Locking Buckles
• Made with clear vinyl and nickel-plated hardware
Note: This item is produced in-house by our leather team in Los Angeles. In-house items display as "In Stock," and in a majority of cases we do have current stock on hand, but if not, the items will be made to order for you, and our customer service team will notify you promptly regarding any anticipated wait (usually just a few days). You will have the option to cancel if you do not wish to wait. If other items in your order are available immediately, the order may be sent in multiple parts.