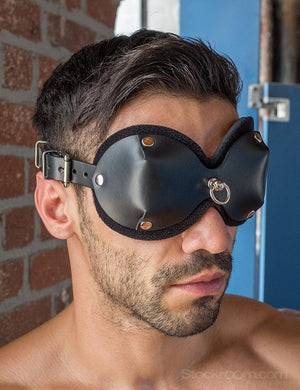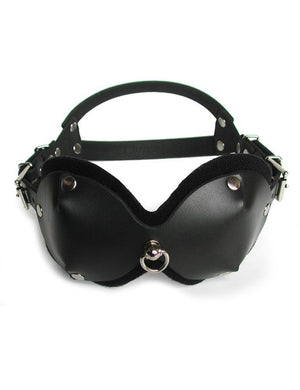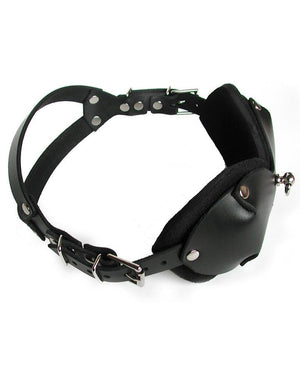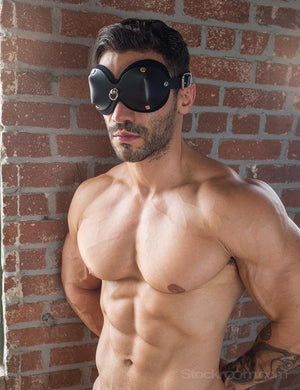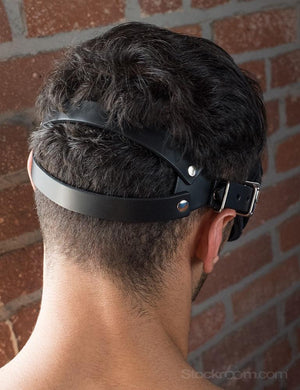 The Mistress Heather Leather Blindfold is a very inventive new blindfold that is highly erotic and very practical. This sleek and beautifully designed blindfold is padded, comfortable, and made from high quality black leather.
There are two straps for the back of the head that make a more secure and relaxed fit. The most innovative feature is a nickel-plated attachment point located right between the eyes for a leash, chains, nipple clamps, or any other lead you desire.
The Mistress Heather Leather Blindfold is shaped like a figure eight, allowing the blindfold to fully envelope the wearer's eyes and effectively block out all light. The figure eight portion is padded with black foam. It is 9½" long and has a maximum width of 4½".
The straps are fully adjustable on both sides. The maximum circumference of the blindfold is 28½" with a minimum circumference of 23¼". The straps are each 2¾" wide and the back straps are 2" apart.
This high quality black leather blindfold is original and exotic. It looks great and functions incredibly well.
The Mistress Heather Blindfold is a Scott Paul design. Scott Paul BDSM gear is kinky, artistic, and made to last a lifetime. Each piece is carefully hand assembled in Seattle, Washington.
*We apologize, but this item is not available for promotional discounts at this time.