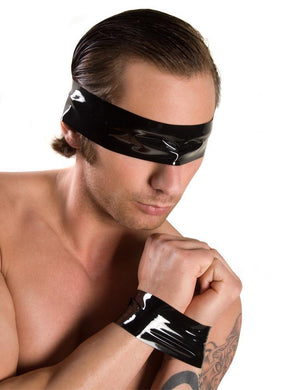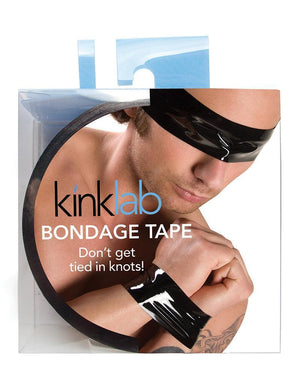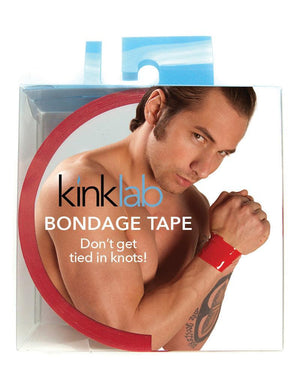 KinkLab Bondage Tape is an indispensable part of any dominant's tool box when you need to restrain a sub for an evening's pleasure without messing around with locks, knots, or buckles. Just unroll a strip, wrap it around your sub's limbs, and you're ready to unleash your choice of sweet, delicious torment.
The most convenient feature of Bondage Tape is that it only sticks to itself. When it's time to unwrap your sub and let them go, accidentally tugging their skin or hair isn't even a worry. All you have to think about is how you want to bind them, when you want to let them go, and what you want to do in between.
Available in red or black, Bondage Tape adds a slick, sexy sheen to any scenario you can imagine. If you need inspiration, the packaging has never failed to provoke delicious thoughts about masculine beauty in restraint.
Product Details:
• Length: 65ft/19.8m
• Width: 2in/5cm
• Available in Black and Red
• Reusable and non-sticky!
Safety and Use: Keep a set of safety scissors, such as our Curve Tipped Safety Scissors handy for quick release in case of an emergency. Never leave a bound person on unattended or in the same position for extended periods of time. Not designed for use in suspension or other weight-bearing bondage. Leave room to slide a finger between tape and skin and check bound body parts to make sure they are not cold or numb. Never cover the mouth or nose, or wrap bondage tape around the neck.
WARNING: This product contains a chemical known to the State of California to cause cancer. For more information, please refer to the State of California's FAQ page: http://oehha.ca.gov/proposition-65/proposition-65-faqs