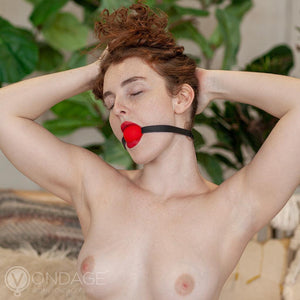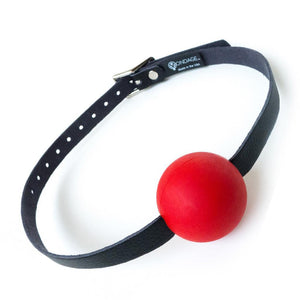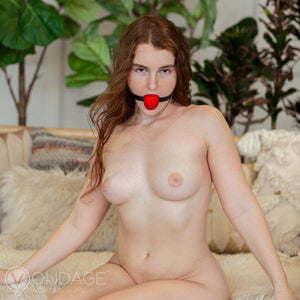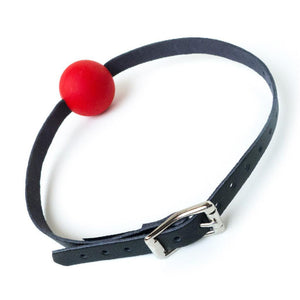 This luscious red ball gag is perfect for your classic bondage scenes! The non-toxic 100% silicone mouthpiece is a comfortable 1.625" (4.18cm) in diameter, so it fits most mouths. The thick vegan leather strap is resistant to bodily fluids and has smooth, finished edges that won't cut into sensitive skin.
The .5" wide strap fastens with a lockable buckle; the entire gag measures between 15" – 22" (38 – 55.8 cm) when fully closed. (Keep in mind that gags go around the neck, not the widest part of the head, so your gag size is different than your hat size.)
Ideal for...Bondage Play, Vegan Kinksters, BDSM, slaves, submissives.
Product Details:
• 100% Vegan
• Silicone Ball Gag 1.63" (4.1cm) in diameter
• Strap adjusts 15-22" (38-55.8cm)
Safety, Care & Usage: With a damp washcloth and hand soap, rub down the vegan microfiber material and dry completely. Do not expose material to excessive heat.
Note: This item is produced in-house by our leather team in Los Angeles. In-house items display as "In Stock," and in a majority of cases we do have current stock on hand, but if not, the items will be made to order for you, and our customer service team will notify you promptly regarding any anticipated wait (usually just a few days). You will have the option to cancel if you do not wish to wait. If other items in your order are available immediately, the order may be sent in multiple parts.