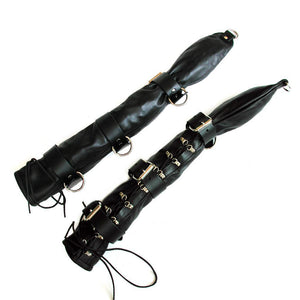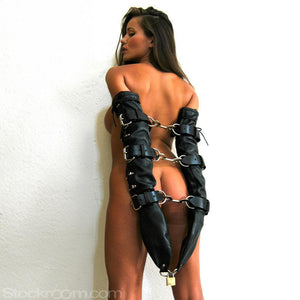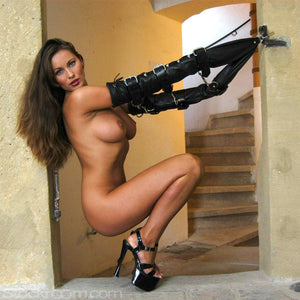 Leather bondage at its sexiest!!! These sleeves are made of the finest leather we can find, and designed by our own in-house designers.
These lace-up bondage sleeves each have three large D-rings on 1½" heavy leather buckling straps for attaching any part of the arm to the body, down to the sides, behind the back, to bondage furniture or anything else you can think of.
Our gloves are special because they have an inner flap that fills any gaps between the laces, without bunching. Buckles and lacing allow gloves to expand in diameter, fitting a wide range of arm sizes with inescapable security. They are 26" long from fingertip to the top of the sleeve. We are proud to offer this top-of-the line item. Snap Hooks and Brass Master Lock sold separately.
Size chart:
Small/Medium:
Wrist - 8½"
Elbow - 9" - 12½"
Bicep - 10½" - 17½"
Length - 17"
SKU: J298 (S/M)
Medium/Large:
Wrist - 10¼"
Elbow - 11½" - 15½"
Bicep - 14½" - 17½"
Length - 18"
SKU: J307 (M/L)
Note: This item is produced in-house by our leather team in Los Angeles. In-house items display as "In Stock," and in a majority of cases we do have current stock on hand, but if not, the items will be made to order for you, and our customer service team will notify you promptly regarding any anticipated wait (usually just a few days). You will have the option to cancel if you do not wish to wait. If other items in your order are available immediately, the order may be sent in multiple parts.